The Pokémon collaboration merch just keeps on flowing, and this time, it's in the form of some really beautiful bag and pouch designs from LeSportsac.
Starting on Wednesday, November 17th, LeSportsac, in collaboration with Pokémon, will be releasing a collection of bags that (mostly) feature the iconic mascot Pikachu in a variety of ways. As of right now, this collection is exclusive to Japan and will only be sold in pop-up stores for a limited time, until Tuesday, November 23rd — giving fans just under a week to grab the merch if they've got their eyes on anything in particular.
While most of the bags feature a number of patterns inspired by and featuring Pikachu, my personal favorites from the collection are a set of small, metallic gold bags that feature Pikachu-tail zipper charms that hang from the side—giving these two bags an extra adorable flair and a touch of uniqueness compared to the others.
As reported by Siliconera, the full list of items available in the collection are:
Gold Pikachu tote (¥15,400 | about $135.15)

Gold Pikachu cross-body bag (¥18,700 | about $164.14)

Pokemon & Flowers everyday bag (¥22,000 | about $193.18)

Pokemon & Flowers cosmetics bag (¥3,850 | about $33.80)

Pokemon & Flowers mini cross-body bag (¥7,150 | about $62.77)

Pikachu Monogram deluxe tote (¥11,550 | about $101.40)

Pikachu Monogram wristlet wallet (¥11,880 | about $104.30)

Pikachu Monogram Daniella cross-body (¥9,900 | about $86.90)

Pikachu Monogram tote (¥12,100 | about $106.21)

3 Pokemon pouches (¥8,800 | about $77.24)

Pokemon pink pouch (¥5,280 | about $46.34 )

Pokemon purple pouch (¥5,280 | about $46.34)
Finally, customers who spend more than ¥17,000 (about $149.27) on items in the collection will also receive a free bandana featuring a Pikachu and Poké Ball pattern, while supplies last.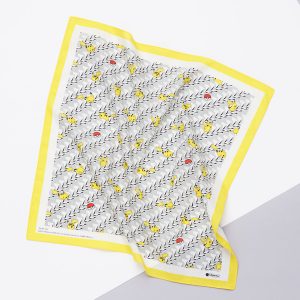 It's not too uncommon to see these Pokémon collaborations reach other regions throughout the world, so hopefully, we'll see some of these items make it over to the west very soon! Stay tuned for more information if you're interested in any of the pieces in this collection!
Leave a Comment