To help celebrate the upcoming 20th anniversary of Kingdom Hearts, the Disney Ambassador Hotel in Tokyo will be accepting guests into special, Kingdom Hearts-themed rooms starting January 6th, 2022!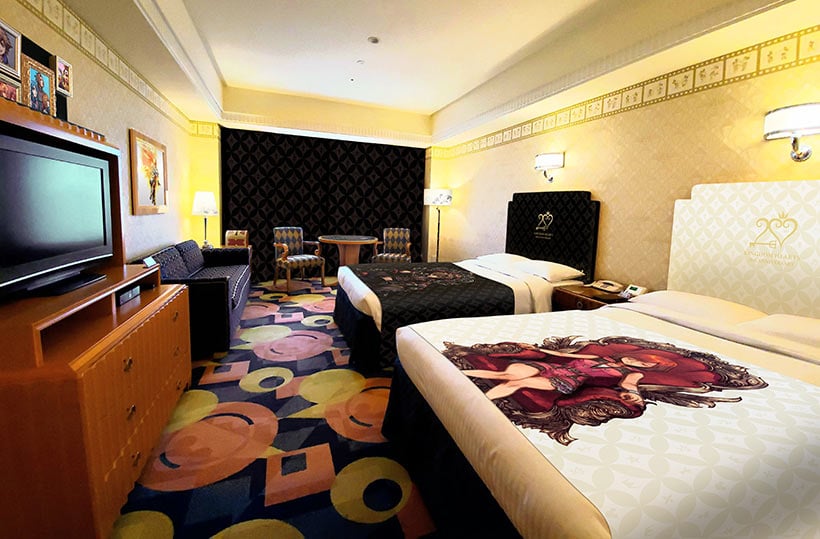 For you Kingdom Hearts fans who might have coincidentally been planning a trip to Japan, this might be something worth looking into. Admittedly, the rooms themselves are nothing too crazy. The beds feature special throws with Sora and Kairi art on them and headboards featuring the 20th-anniversary logo, the walls and hanging wall art are all inspired by the series, and some extra goodies, like 2 types of original, unique postcards, paper gift bags, and "secret items" in a KH-styled treasure chest are all things you can expect when you check-in.
However, where the room really shines is the exclusive experiences you gain access to if you're a guest staying in them. For starters, you'll be able to purchase "original goods" inspired by Kingdom Hearts that are sold exclusively for guests of the rooms. As of right now, we only know of one specific merch item: a beautiful, red and black KH-inspired shoulder bag for ¥5,500 (about $48.32). However, it's not known if other exclusive items will be added to the list of purchasable goods.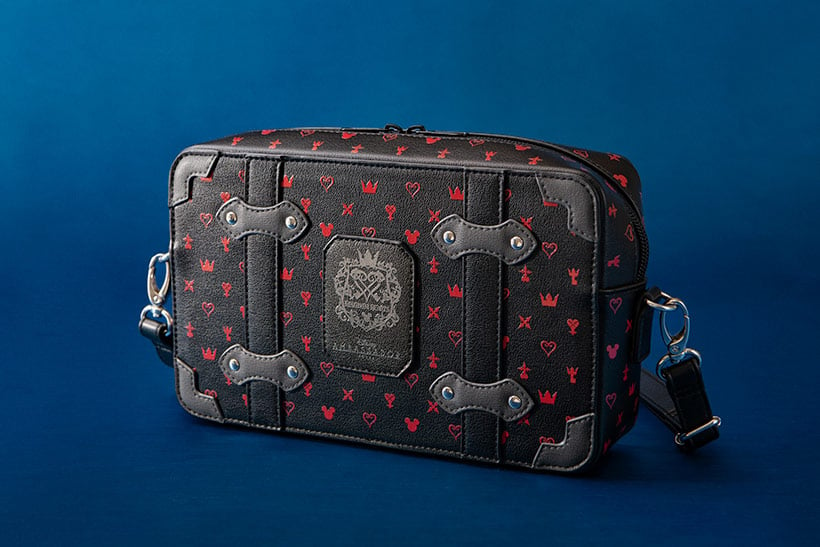 Guests will also have access to a special Kingdom Hearts-inspired menu at the Hyperion Lounge in the hotel, which features a number of really fun food and drink items. A beautifully decorated personal cake set features KH stylings and comes with a special sea salt ice cream jelly, served on an exclusive 20th-anniversary coaster that can only be obtained at the lounge. This is in addition to a special chocolate drink decorated with special chocolate Paopu Fruit, the famous star-shaped fruit native to Destiny Islands.
Finally, though: the pièce de résistance in my humble opinion, is the very special key card you're given to enter the rooms. Each Kingdom Hearts room comes with two special room keys that resemble, in detail, the Oblivion Keyblade. The keys look like they're made of metal, and it's been confirmed that the hotel is allowing guests to take the keys home with them after their stay — making the room keys a very special, very cool and unique souvenir for Kingdom Hearts fans. 
If you're interested in staying in one of these rooms, they'll be open from January 6th, 2022 to April 27th, 2022, meaning spots will be limited and will likely fill up fast. The first reservation period for these rooms begins on Monday, November 29th at 1 p.m. JST, and prices start at ¥77,500 (about $680.84), tax included. 
Leave a Comment