Last Friday finally saw the release of Pokémon 25: The Album – the final product in The Pokémon Company and Capitol Records' year-long music project. With its release, we also saw the debut of J Balvin's single, "Ten Cuidado", and its music video. The Pokémon Company's Instagram account decided to promote the track via Instagram Stories by showing off what looked like a Pokémon TCG featuring J Balvin with Charizard.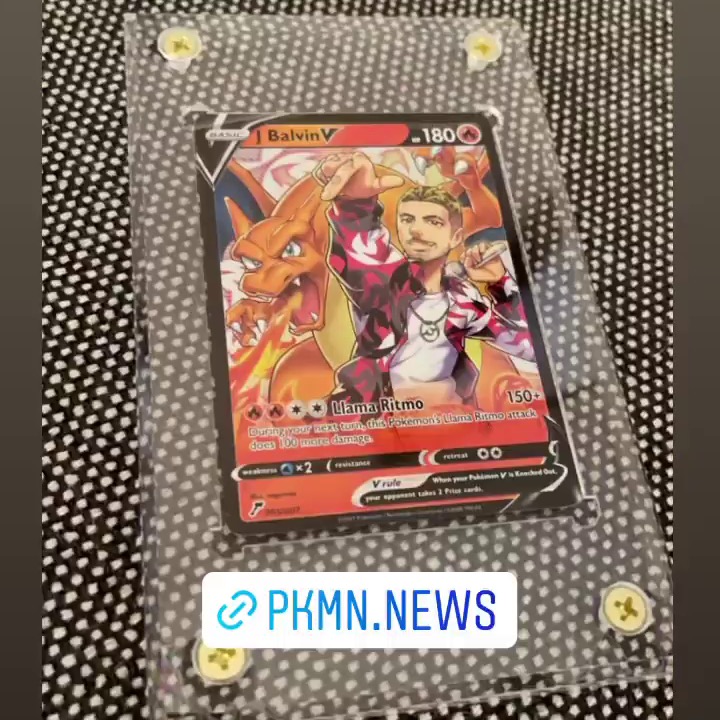 That same day J Balvin's card and more were added to Pokémon's 25th-anniversary site via the dedicated artists pages for J Balvin, Katy Perry, and Post Malone.
Fans were quick to wonder if these cards would be available as promo cards or included as a purchase bonus/gift with the album in the future. Others were noting that the cards feature the Pikachu tail musical note icon that's been used throughout P25 Music (another name the project has been referred to) and that the card numbers reflect the artists' birthdays instead of the traditional x-card out of the entire set.
Over the weekend, Kotaku reached out to The Pokémon Company for further comment. While the outlet didn't post a direct quote, they reported that it appears that these cards are just promotional images for the time being.
Even if these cards aren't released publically, they're technically official and a first in Pokémon TCG. Over the years, The Pokémon Company has had a history of limiting real-life people/personalities in cards. Exceptions have been made, of course. There's been the Imakuni? Trainer Card, special promo cards featuring the winners of various official Pokémon TCG tournaments, stars of Pokémon entertainment shows, and Ken Watanabe as Lt. Yoshida with Snubbull from Pokémon: Detective Pikachu. Save for the Imakuni? card (which started as a promo card in 1997 and was most recently reprinted in the Generations expansion for the 20th anniversary), none have been released in English. These three cards are the first to feature illustrated versions of real people and have the card first shown in English.
Oddly enough, on top of all this, is that this isn't the first trading card Post Malone has been featured on. Wizards of the Coast, who previously held the Pokémon TCG license in the US from 1998 – 2003, gifted the rapper with Post the Enchanter – a modified Zur the Enchanter card from the Magic: The Gathering TCG. Post Malone showed off that card on an episode of I Hate Your Deck last month.
For Pokémon fans and those who collect the cards, hopefully, we'll see these and other P25 Music focused cards released in the future. For now, though, you can a least save the renders that The Pokémon Company has shared online.
Leave a Comment