Update (Saturday, September 25th at 12:15 p.m. PT): Wow! That was fast! Arcanine is available to pre-order on Pokémon Center's US and CA sites right now. According to the listings, the plush will ship out to customers in late May 2022.
Pokémon Center US listing – $449.99
Pokémon Center CA listing – $584.99 CAD
---
Leave it to Pokémon Center to churn out another massive plushie. Last month we saw that Piplup was ready to cuddle and help us out with our taxes and today we get a snuggly Fire-type doggo, Arcanine. Announced on the official Japanese Twitter account for the Pokémon franchise, an almost 1/2 scale Arcanine plush will be released in March 2022. Even at about 1/2 scale, this plushie is big! After all, Arcanine is 6′ 3″ tall and weighs 341.7 lbs according to its Pokédex entry (1.9 m and 155 kg).
According to the listing on Pokémon Center's Japanese site, its dimensions are 27.6 inches x 59.1 inches x 23.6 inches and weighs in at 11.57 lbs (H 70 cm x W 150 cm x D 60 cm and 5,250 g)! Have a gander at the product photos for yourself.
For such a big plush, a big price tag comes with it. The plush is priced at ¥49,500 (tax included, roughly $447.17) and is made to order. For those who order the plush via Pokémon Center's Japanese site or through a proxy seller, the shipping date is in mid-March 2022.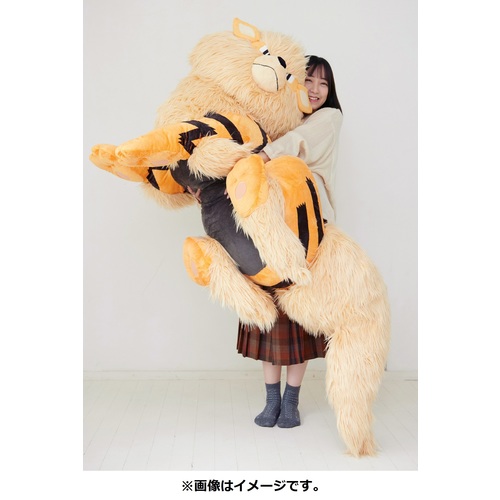 For Pokémon fans and Arcanine diehards that live in North America, chances are you'll be able to order Arcanine soon. Pokémon Center's US and Canada sites have a fantastic track record of listing just about every massive plush within a month of it being announced. Interested? All I can say is stay tuned and follow us on Twitter – that's where will tweet out Arcanine's US release as soon as possible!
Leave a Comment