Dragalia Lost's 3rd anniversary is nearly here! A special Dragalia Digest showed off what's in store for the big bash, but also new features and events coming to the game over the next few months. Missed out on the Dragalia Digest? Watch it for yourself, or go ahead and read on to see what Notte was so excited to share with us!
480 FREE SUMMONS AND BANNERS GALORE
To quote Notte – Sweet Sassy Molassy! This 3rd anniversary is going to be a free summoning extravaganza! First, it'll be 38 days of free Tenfold Summons starting on September 26th at 11 p.m. PT until November 3rd at 10:59 p.m. PT. It's not over though, as on November 3rd at 11 p.m. PT until November 4th at 10:59 p.m., it's a day of 100 free summons! Overall, that's 480 free summons.
In addition to the free summons, we know of a few banners coming up. A special Platinum Showcase featuring Gala Dragalia adventurers begins on September 26th at 11 p.m. PT. This particular banner requires Dragalia Lost's in-game premium currency (diamantium) and has a pull limit of five Tenfold Summons.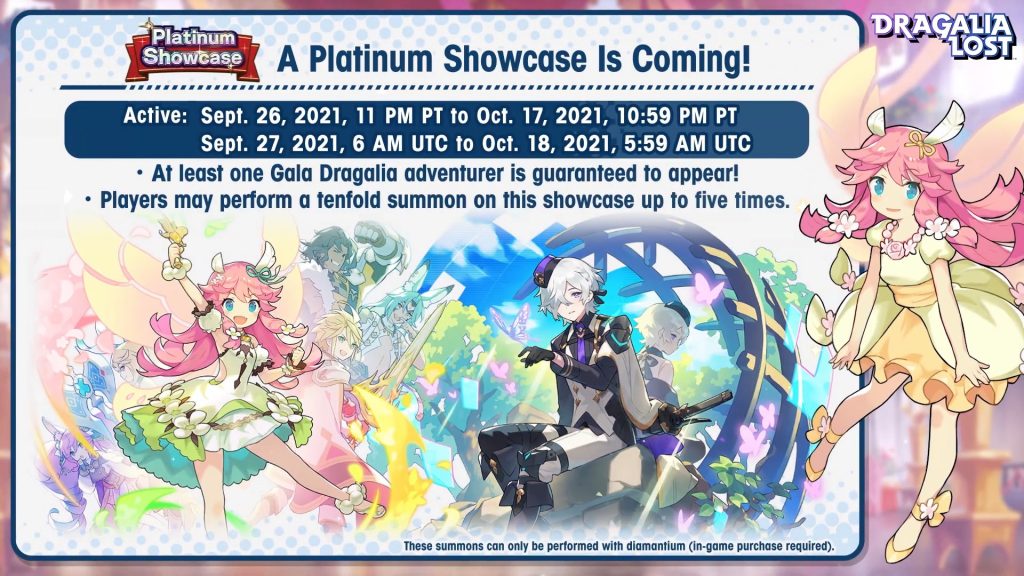 No worries for players that don't purchase diamantium, as a Gala Dragalia banner featuring Gala adventurers and dragons will be live too! Available on September 26th at 11 p.m. PT, you can use your free daily Tenfold Summon on it too!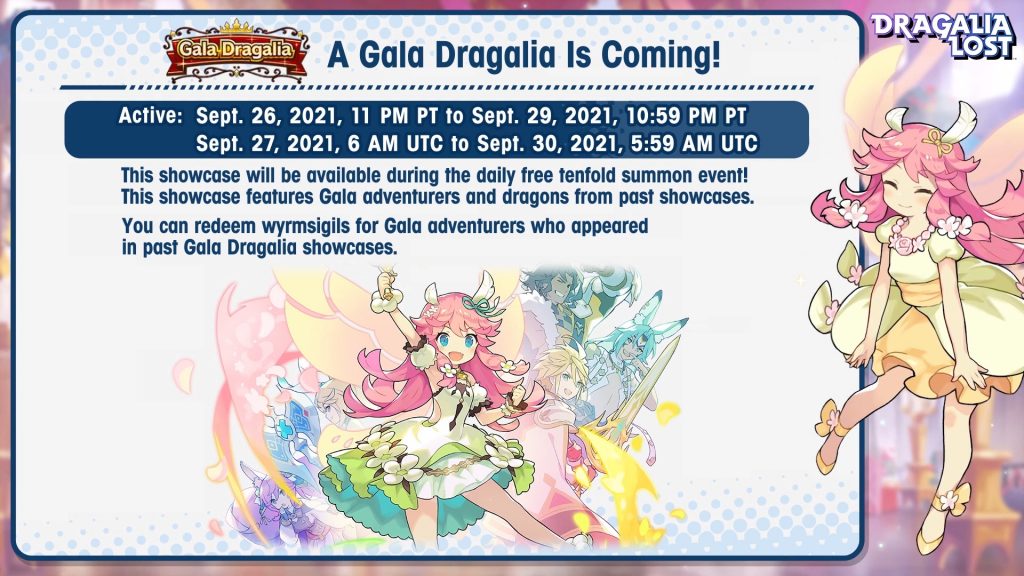 Wait, we have another Gala Dragalia banner incoming! With the release of Dragalia Lost's Chapter 21 (Part 2) landing earlier this week, this chapter's dedicated Gala Dragalia banner will be here soon. Starting September 29th at 11 p.m. PT, you can try to summon Gala Zethia and Gala Bahamut. This banner will also accept your free daily Tenfold Summon.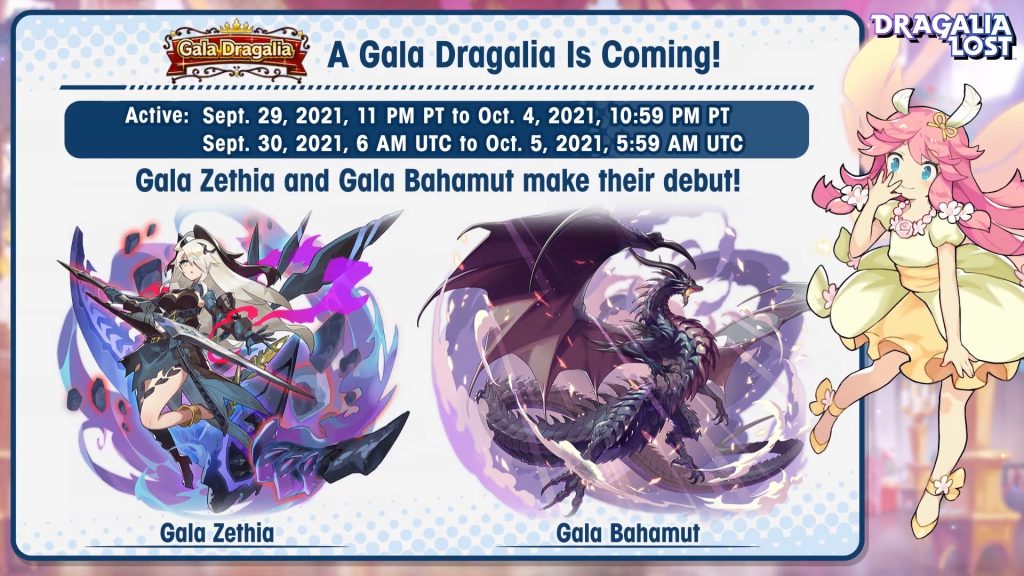 LOG-IN BONUSES
We're not done yet! There's still a bunch of log-in bonuses to go over. First, Scratch-A-Thon will happen daily starting September 26th at 11 p.m. PT until November 3rd at 10:59 p.m. PT.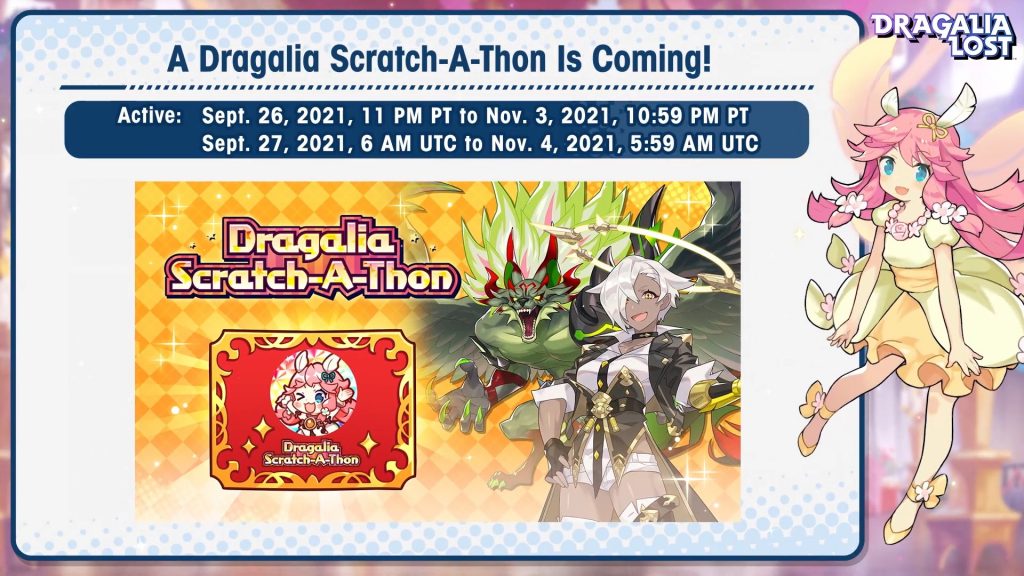 And then we move on to the 3rd-anniversary log-in bonuses. Look forward to 20 days of goodies in this two-part distribution. Wyrmite, a special 3rd-anniversary Wyrmprint, Mini Jupi dragon, Omnicite (more on that later), and more will be given out.
3RD ANNIVERSARY EVENTS (DROP BOOSTS & HALF STAMINA)
Need help gathering some crafting supplies? A variety of quests will have their drops increased and stamina reduced by half!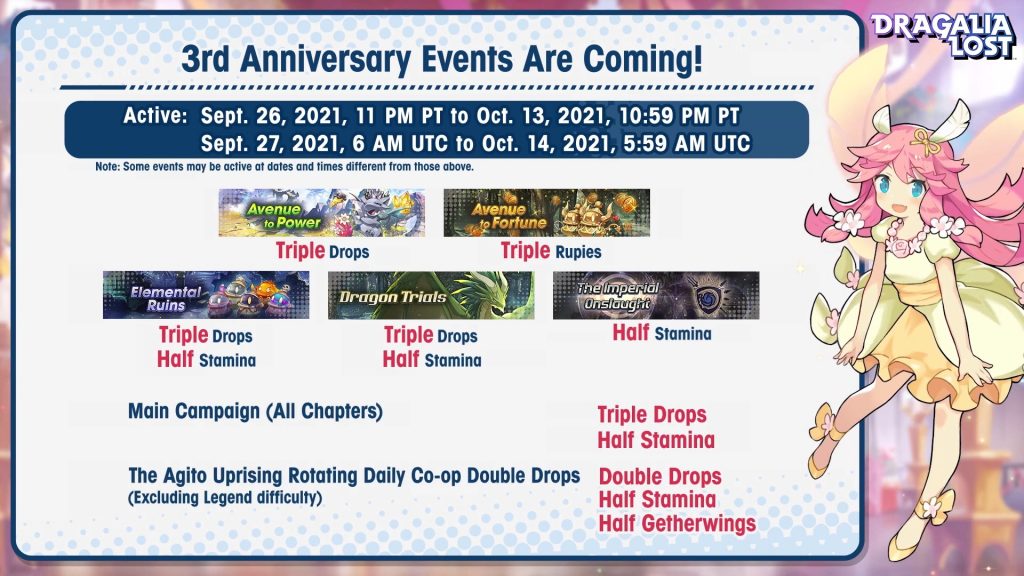 FAITH FORSAKEN RAID EVENT
Split into two parts, the Faith Forsaken raid event begins on September 29th at 11 p.m. PT. Part 1 will end on October 12th at 10:59 p.m. PT, letting Part 2 pickup right there on October 12th at 11 p.m. PT. During this raid event you'll be able to recruit a new adventure! … It's Harle – enemy dude number… well, not #1, but just a real jerk. Even Notte is shocked by the news. You'll be able to "befriend him" throughout Part 1 and Part 2 of the raid event. Oddly enough that time extension is rather fitting given his… winning personality.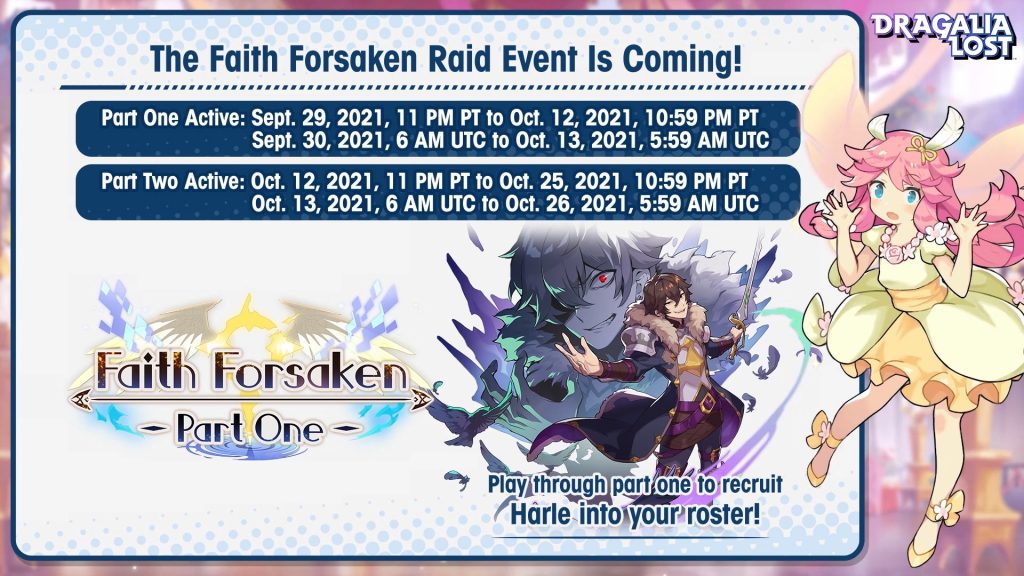 In Part 2, though, the big raid fight will work a bit differently this time. Instead of four players going up against the raid boss, it'll be 16 players! Each player will only be controlling one adventurer, instead of the standard team of four.
CHARACTER SNEAK PEEK
A Dragalia Digest means we get to see some new characters (and familiar faces dressed up for a special event/the holidays), and this 3rd-anniversary presentation did not disappoint! Look out for Halloween Sylas, Uriel, Michael, Dragonyule Nevin, Izumo, and Pia starring in a variety of summoning banners in 2021 and early 2022.
NEW FEATURES – THE KALEIDOSCAPE, OMNICITE, AND MORE
A new labyrinth awaits and it'll be tricky! Select a single adventure and see how far you can get in The Kaleidoscape. You'll level up along the way and scavenge what you can, but if defeated, you'll find yourself sent back to the beginning. More information will be shared at a later date.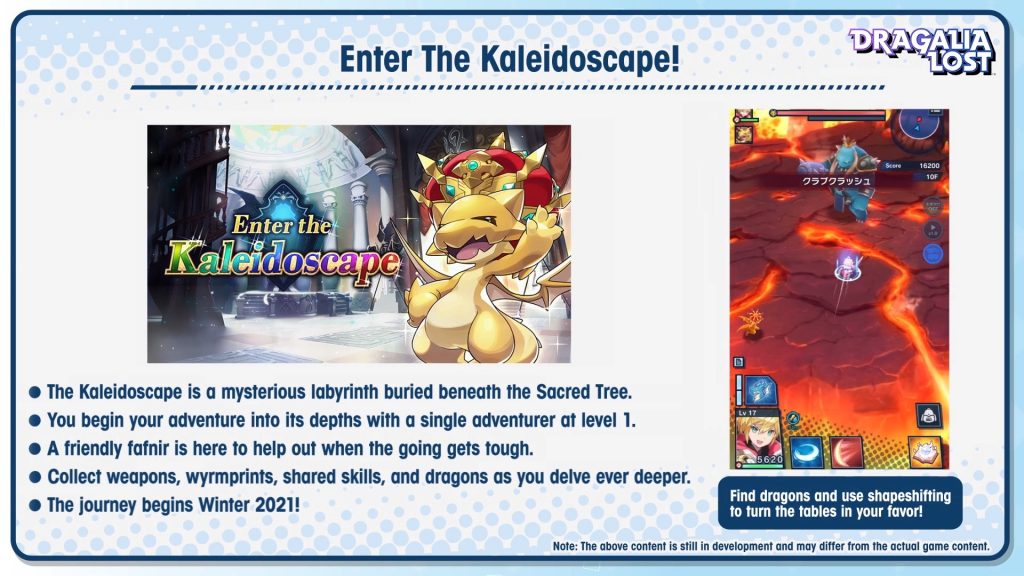 As for Omnicite (mentioned earlier), it's a powerful upgrade item. It can be used "to fully level up any adventurer in addition to fully unlocking their mana nodes. It can be obtained from log-in bonuses and other sources." Make sure to log-in during the anniversary to get a few for free!
It was also confirmed that dragons will be getting an unbound upgrade. Five-star dragons can be unbound up to five times, yet certain dragons will be given this opportunity first and the rest rolled out over time. There will also be "new dragons" to fight! Be on the lookout for a new quest series where you can battle the Five Greatwyrms in their primordial forms. These quests will be available in December.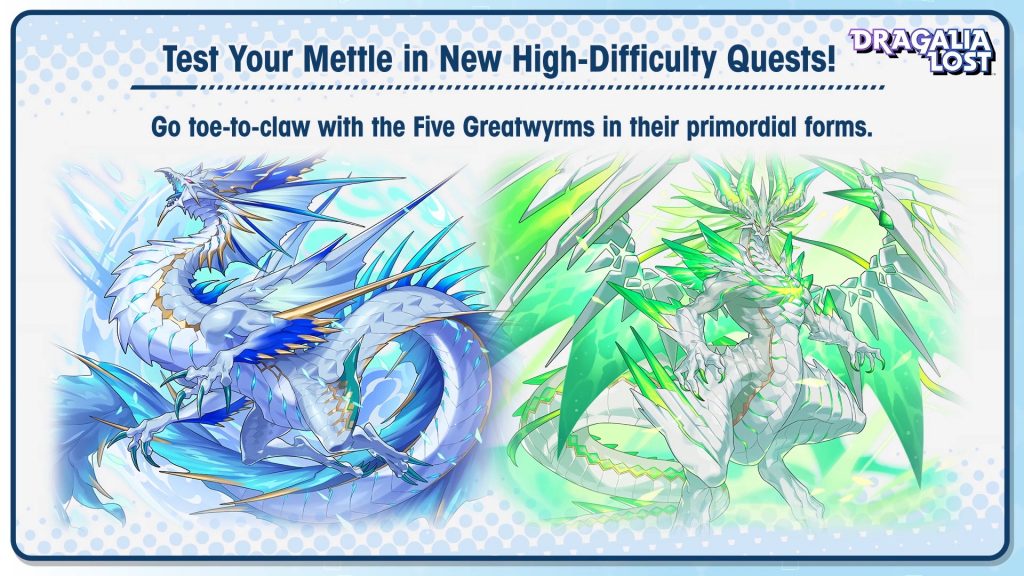 More events will be added to the Event Compendium and previous event stories to Notte's Notes. It was also confirmed that the main campaign will be updated monthly, with each chapter being split into two parts. Lastly, if you're having trouble crafting some weapons or gathering items from a specific quest, drop amounts for the following quests are being adjusted: Void Battles (including Chimera Strikes), The Imperial Onslaught, Advanced Dragon Trials, and The Agito Uprising (excluding Legend difficulty).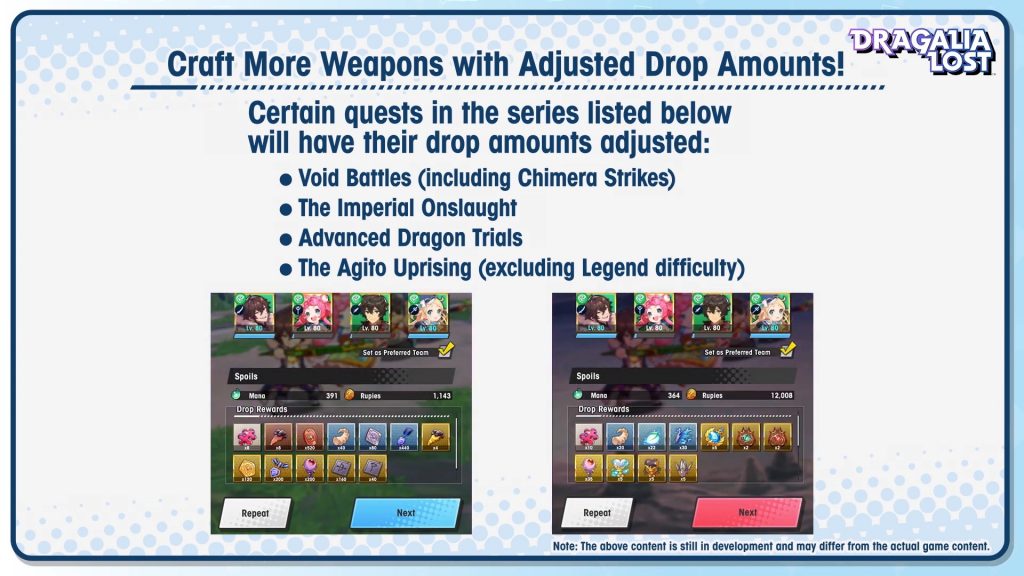 THANKS FOR WATCHING GIFT
It isn't a party without a party favor! To celebrate this Dragalia Digest presentation, you'll find a Tenfold Summon Voucher and 100,000,000 Rupies in your gift box when you log-in to Dragalia Lost.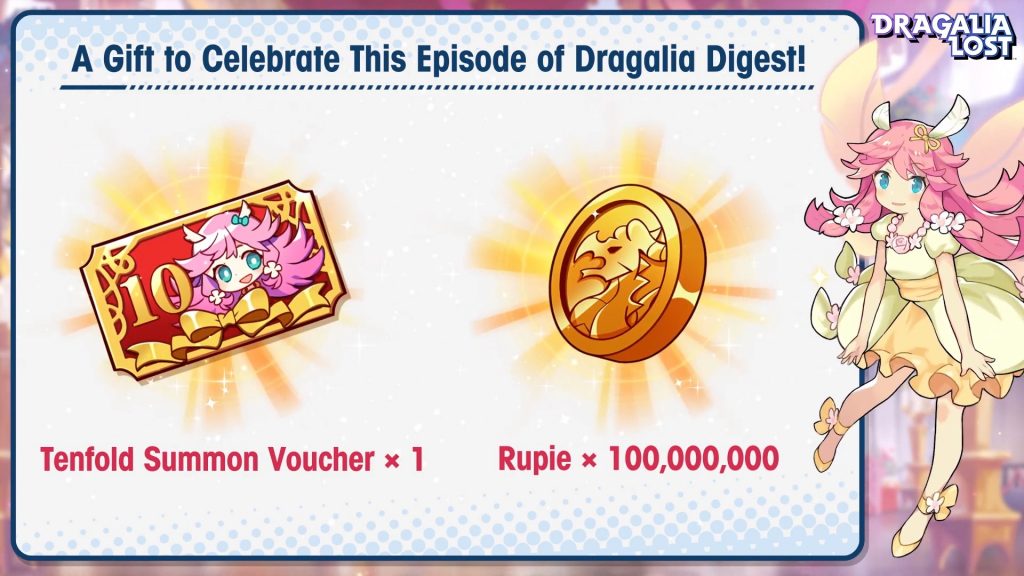 Don't forget to log-in every day starting on September 26th and check out the special 3rd-anniversary site!
Leave a Comment