For Pokémon GO Trainers in the US and New Zealand, the mobile game changed on Sunday, August 1st. It might not be as noticeable, at first, but for those who've been following the planned removal of certain features put into place due to COVID-19, it's what we've been dreading.
Here's the deal – back in June, Niantic announced it would implement new "Exploration Bonus Updates" while also removing three key features in select locations as a "test" sometime after Pokémon GO Fest 2021. Needless to say, a large and vocal portion of the Pokémon GO player base didn't agree with these changes and voiced their thoughts to Pokémon GO's official social media channels and signed petitions (which Niantic has responded to in the past). Despite these actions as well as a surge in COVID-19 cases thanks to the Delta-variant (at least in the US), Niantic went through with this "test". Booting up the game, you'll find these new "Exploration Bonuses" for players in New Zealand and the US: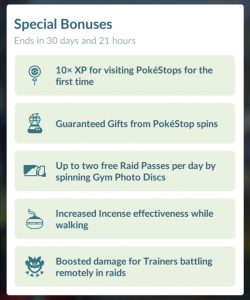 Niantic also updated its "Covid-19 Event & Feature Updates" support page to reflect the change, noting the removal of the following for New Zealand and US Trainers:
PokéStops and Gyms

Gifts containing certain items that were previously brought to you by your Buddy Pokémon will be shifted to boosted supplies from spinning PokéStops and Gyms.
Previously, PokéStop and Gym interaction distances were increased, to enable people to engage from further away. After this change the distance will revert back to the standard distance, although this may be increased during future events and as part of certain features.

Incense

Previously, Incense effectiveness was universally boosted. After this change, Incense effectiveness is boosted only while moving; if you are stationary, Incense effectiveness is set at the standard level.

Gifts

Previously, your Buddy Pokémon brought you more Gifts each day, up to five gifts at once and up to three times a day. After the change, the frequency of these gifts from Buddy Pokémon will be reduced.
With no formal acknowledgment of the petitions, feedback from fans, and criticisms from Pokémon GO content creators that have direct lines of communication with Niantic, the community has banded together in making sure that Niantic will hear these criticisms by not supporting the game financially. Yes, the "vote with your wallet" option. Some players have also vowed to stop playing the game until the removed features are returned. Others have taken the time to reiterate why the features were positive (especially for individuals with chronic illnesses and/or disabilities) and that the COVID-19 pandemic is still not over.
Niantic has yet to respond to fans now that the changes are in effect, but that's partially due to the update launching during the weekend (non-business hours). We'll just have to wait and see if they comment any more about this "test" and address the community's criticism, if at all, this week.
Leave a Comment