The tales of Wallachia will live on. Previously, Netflix had been eyeing a brand new Castlevania spinoff after the critically acclaimed series was announced to end with its fourth season. Today at Netflix Geeked Week, the streaming service unveiled that director Samuel Deats will be returning to the phantasmagoric universe once again to deliver a sequel based on vampire killer Richter Belmont and his friend Maria Renard.
The Castlevania Universe is getting even bigger.

An all new series starring Richter Belmont (the son of Sypha and Trevor) and Maria Renard, set in France during the French Revolution, is currently in the works. #GeekedWeek pic.twitter.com/tsdeDpvNGQ

— Netflix Geeked (@NetflixGeeked) June 11, 2021
While the announcement of the new series is exciting for fans, a strange contradiction to Castlevania seemingly appeared in the announcement. The tweet in question above, stated that Richter is the son of Trevor Belmont and Sypha Belnades, however, in Castlevania lore the original hunter Simon was the two former couple's son. Director Samuel Deats has acknowledged the mistake in Netflix Geeked Week's post, reassuring fans that Ritcher will still be their future great great descendent — in other words, no need to worry with his faithful decisions to the franchise at the helm. The post's detail was just an innocent mistake on Netflix's social media account.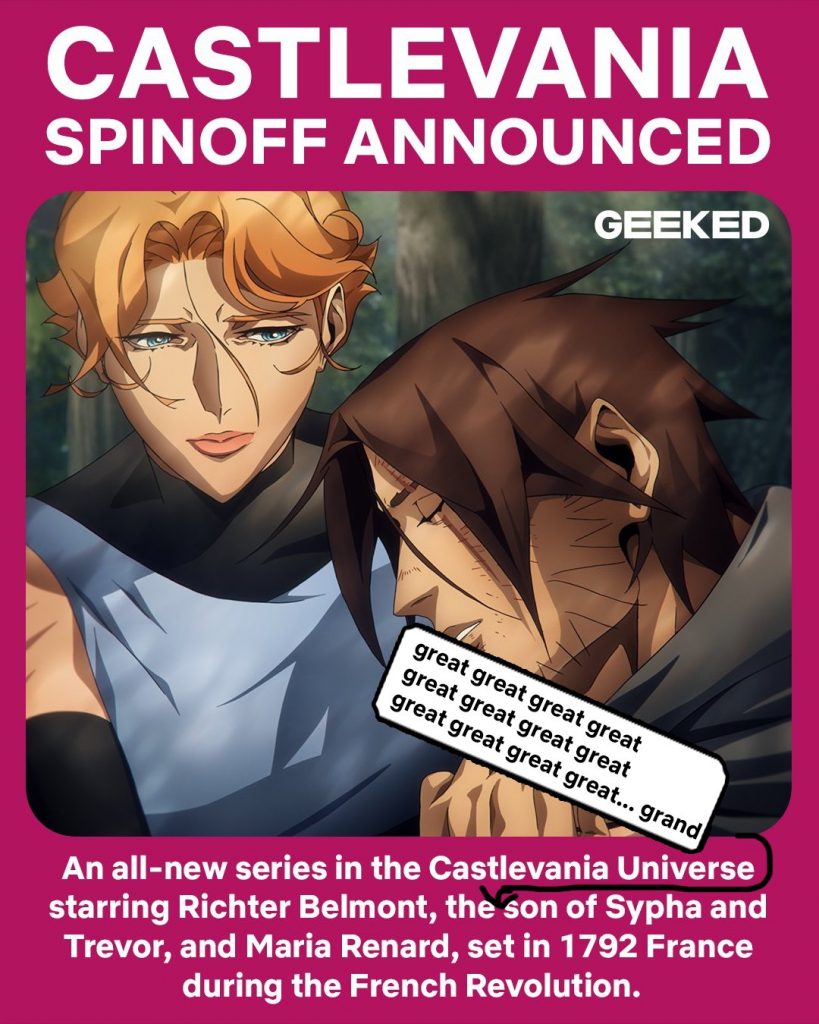 Richter Belmont and Maria Renard come from the critically acclaimed Castlevania: Rondo of Blood (Dracula X on the Super Nintendo) and Castlevania: Symphony of the Night. As many Nintendo fans are aware, Richter and Simon Belmont were featured in Super Smash Bros. Ultimate as playable fighters in 2018.
Terri Schwartz hosted a Geeked Week post-show interview with members of the creative team – Adam Deats (Assistant Director), Sam Deats (Director), and Kevin Kolde (Executive Producer). Schwartz fielded fans questions about the show's final season as well touching on the new series (interview begins at the 1:54:03 mark):
When more news regarding Castlevania's future spinoff makes the rounds we'll be sure to let you all know!
Leave a Comment