Pokémon Trading Cards continue to be a hot commodity in general, but with this next Sword & Shield expansion on the way, I can't help but think things are going to get a little more wild. The aptly named Evolving Skies is bringing together two desirable groups of Pokémon – Dragon-types (including the ever-popular Rayquaza) and Eeveelutions – and making them the stars of this latest set.
The new VMAX pulls will include the above mentioned Sky High Pokémon, Duraludon, Flareon, Vaporeon, Umbreon, and Sylveon. The Eeveelutions will also be sporting the new Battle Styles (Single Strike and Rapid Strike). Speaking of variety, two new Elite Trainer Boxes will be released featuring two different groups of Eeveelutions. These, as well as the standard booster packs, will be available starting Friday, August 27th.
The rundown of various card types in Evolving Skies includes:
15 Pokémon VMAX

18 Pokémon V and 33 full-art Pokémon V

24 Trainer cards and five full-art Supporter cards

A new Special Energy card
If you'd like to get a headstart, Evolving Skies Build & Battle Boxes will be available beginning Saturday, August 14th. These will feature four packs each along with a 23 card Evolution pack of various key deckbuilding cards, and one of four alternate art promo cards.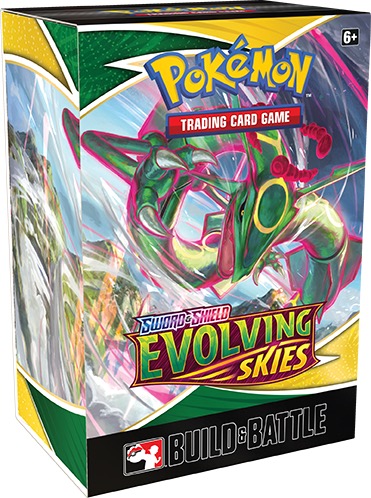 Leave a Comment