Calling all amiibo fans! Time is ticking away as Nintendo's Toys-to-Life figurines, amiibo, are getting a much-needed book thanks to Ninty Media. Initially made public last month on Kickstarter, this project's funding time is coming to a close. Behold The Unofficial amiibo Handbook!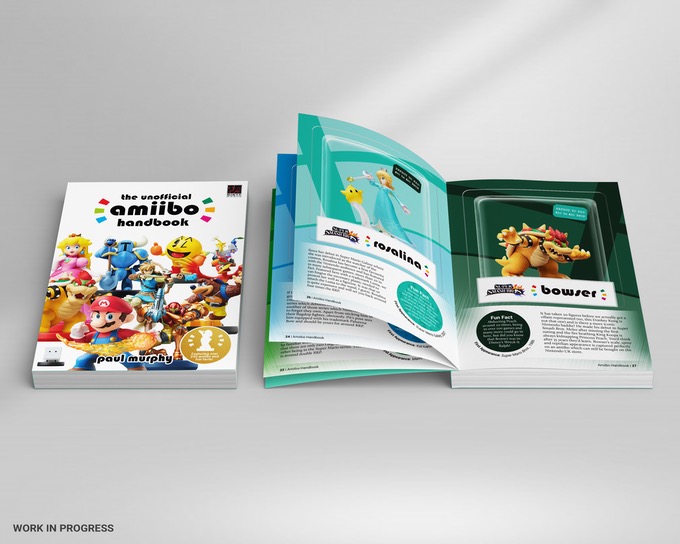 Since its launch in 2014, there are over 200 amiibo figures! This handbook will feature all amiibo that were (or still are) commercially available and even include some pricing guidelines if you're still trying to complete your collection. Plus, the founder of Amiibo News and Nintendo Wire – our very own Jason Ganos – is writing the book's forward!
While the project did hit its initial funding goals within 90 minutes of being made public, a variety of stretch goals were later added on. These include a 10-page feature on the Pokémon Rumble U NFC figures that pre-dated amiibo (goal met), turning the project's amiibo poster into a double-sided poster featuring the massive amount of amiibo cards (over 500 in total and the goal has been met), and lastly, a 10-page feature briefly covering these amiibo cards in the handbook. This last goal hasn't been met yet, but it's close! As of this posting, only 34 people need to back the project to secure this addition!
Currently, the only pledge tier available is the standard edition of the book for £8 (about $12, excluding shipping), yet there are some add-ons you can purchase. These include the amiibo poster for £3 (about $5), "Certified amiibo fan" badge for £4 (about $6), and an additional copy of the book for £6 (about $9, all prices excluding shipping). To back the campaign and secure yourself a copy of The Unofficial amiibo Handbook, you have until Friday, May 7th at 4 a.m. PT | 7 a.m. ET to submit your pledge.
Leave a Comment