The Kickstarter for Monster Hunter World: The Board Game was launched yesterday by Steamforged Games Ltd, and while that's a news story all on its own, what's truly incredible is the amount of support the campaign has garnered. Within ten minutes, the campaign officially achieved its funding goal of $208,931, and since that initial milestone was reached, the backing has increased by magnitudes of millions. At the time of this writing, the current amount pledged is sitting at $2,391,652 and is growing by the minute.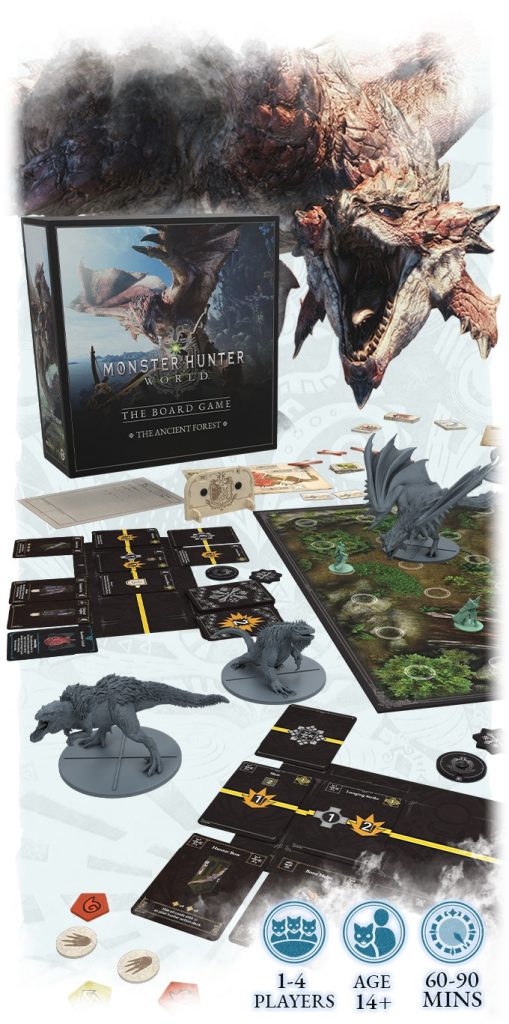 Monster Hunter World: The Board game sees the Monster Hunter experience lovingly and carefully translated into a tabletop experience complete with highly-detailed figures of tiny hunters and huge monsters taken straight from Monster Hunter World.
"Gather your party, grab your massive weapon, and embark on cooperative quests in an open world where your choices matter. Armed with your attack cards and your wits, dive into battle with massive monsters, making quick strategic decisions and honing your hunting skills with every hard-won piece of monster loot!

In this cooperative arena combat board game for 1-4 players set in an open world, it's not you who dictates the flow of battle, but the monster you hunt — and every monster is wildly different.

Pick your hunter based on their unique weapon and playstyle. Select which iconic monster you'll be hunting across the wilds. Track the beast in a choose-your-own-adventure quest, avoiding pitfalls and gathering bonus resources. Then plunge into adrenaline-fuelled combat where teamwork, positioning, and stamina are key, targeting the loot you need for the weapons you want — without getting crushed!

The more monsters you slay, the better the weapons you can craft, the bigger the monsters you can hunt. These massive beasts will roll, bite, body slam, spit poison, submerge you in sludge, and even charge across the board to pin you in a corner, pushing your party members out of the way and forcing everyone to reposition in the process."
Steamforged Games Ltd shared their excitement and gratitude for the incredible amount of support the project has received the following:
"Someone ask the Meowscular Chef to prepare a celebration feast, because WE DID IT!

Now Monster Hunter World: The Board Game will come to life, and it's all thanks to YOU.

Funded in 10 minutes. That truly is MONSTROUS.

We can't WAIT to bring massive monster minis to your tabletop for incredible adventures and weapon-swinging, part-breaking, combo-cracking BATTLES!"
Monster Hunter World: The Board game is still open for more backing with various support rewards up for grabs. The team at Steamforged Games is aiming to initially release the game to backers of the project approximately 10-13 months after the Kickstarter campaign officially closes. You can check out an unboxing of a prototype of the game, as well as a full playthrough of a hunt for the Rathalos on the official Steamforged Games YouTube channel.
Leave a Comment