Pokémon has had quite a wild ride this past year. From the resurgence of Pokémon TCG collecting to the announcement of Pokémon Sword and Shield becoming the third-highest-selling Pokémon games of all time, the franchise has been absolutely thriving — and the successes don't stop there! Today, The Pokémon Company now has yet another reason to be proud of their monster-collecting IP.
The Pokémon Trading Card Game: Battle Academy has officially been honored as Toy of the Year by The Toy Association. This board game iteration of the classic Pokémon TCG serves as an entry point for any aspiring masters and features pre-made decks that allow anyone to immediately start playing without having to build a collection of their own.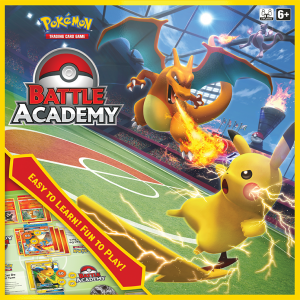 Barry Sams, the Vice President of the Pokémon Trading Card Game at the Pokémon Company had this to say in a press release about the award:
"The Pokémon TCG is a cornerstone of the brand, and with Battle Academy, our mission is to give families a fun and accessible way to spend quality time together. We are thrilled that Battle Academy has been recognized for these efforts, and it's rewarding to see so many kids bonding with parents over their love of Pokémon TCG cards."
You may not be familiar with The Toy Association by name, however, you've almost certainly seen their logo if you've spent any time perusing the toy section in a department store or online. The TOTY Awards themselves are given out once a year and stand as The Academy Awards of the toy industry. Past winners of the association's various awards have included the likes of LEGO, Crayola, Funko, and more.
The Pokémon Trading Card Game: Battle Academy is available now at select retailers, including Target, and has an MSRP of $19.99.
Leave a Comment