Earlier this month we learned Persona 5 Strikers would be crossing over into Dragalia Lost. This Caged Desire event aims to capture the themes and style of P5, and now that the trailer has dropped I think it's safe to say the Phantom Thieves have done it again.



Infiltrating into the mobile game will be playable versions of Joker, Mona, Panther, and Strikers newcomer Sophie. Each of them is looking as true to form as can be in Dragalia, with their Persona present as their own transformations and manacasters standing in for their guns during Force Strikes. Joker's trademark other self, Arséne, will even be a dragon that any adventurer can use – if you manage to summon them, of course.
A dedicated page for the event has gone live, detailing the ins and outs of the characters and story elements of the event. Some eye-catching new artwork is also featured, along with new Persona 5 themes for profile cards. One key detail here is that Sophie will be the free character for those who participate in the event enough, letting you get to know her ahead of her Strikers debut.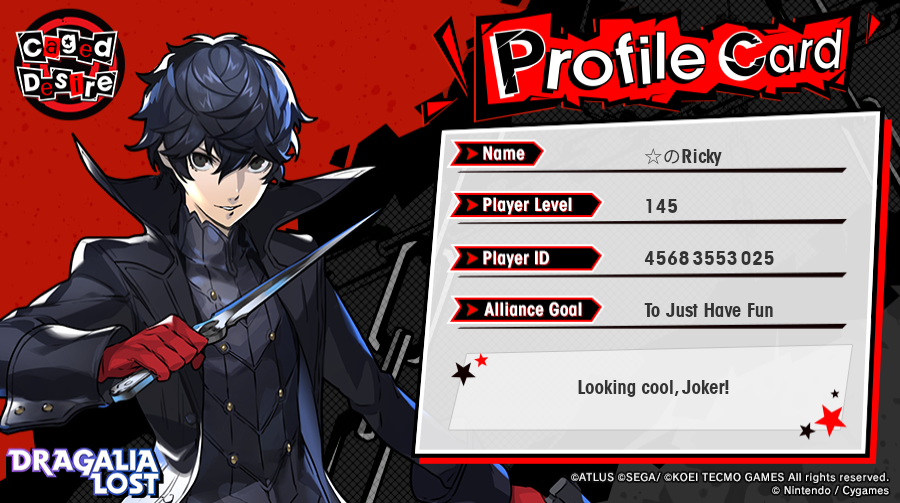 You'll want to be checking in during this one too, as log in bonuses and exclusive rewards will all be available. For anyone out to plunder each Phantom Thief, daily free tenfold summons will also be back for a limited time!
Persona 5 Strikers will steal your hearts in Dragalia Lost starting January 30th. If you like what you see from Caged Desires and want to know more, you can check out our own Persona 5 Strikers preview and look forward to that game's launch on February 23rd.

Leave a Comment