Super Smash Bros. Ultimate may have the biggest and widest-reaching roster, but if any company knows crossovers it's Capcom. Known for working with Marvel, SNK, Tatsunoko Productions, and more; they also weave their own series together fairly often. One look at Street Fighter V's roster will show plenty of Final Fight characters (with one from Rival Schools on the way) proves this. 
If you aren't so into fighting games though, have a look at this gorgeous new Capcom crossover illustration. Coming from Kinu Nishimura, who's had a hand in promotional art and character design for multiple Capcom fighting games, it brings together several corners of the company's lineup of games. 
そうなんですよ、カプコンストアさん用に描かせてもらった絵がめっちゃいろんなグッズになって発売されます〜
途中のやつ画面写真しか無かったですが見たってください!
人々のやりとりなどもはや伝統芸能みたくなってますがお気に入りのキャラが居たならば是非〜https://t.co/jxOevM278Y https://t.co/TcSB8dJwrN pic.twitter.com/8wqe3S1VJm

— nishi_katsu (@nishi_katsu) January 13, 2021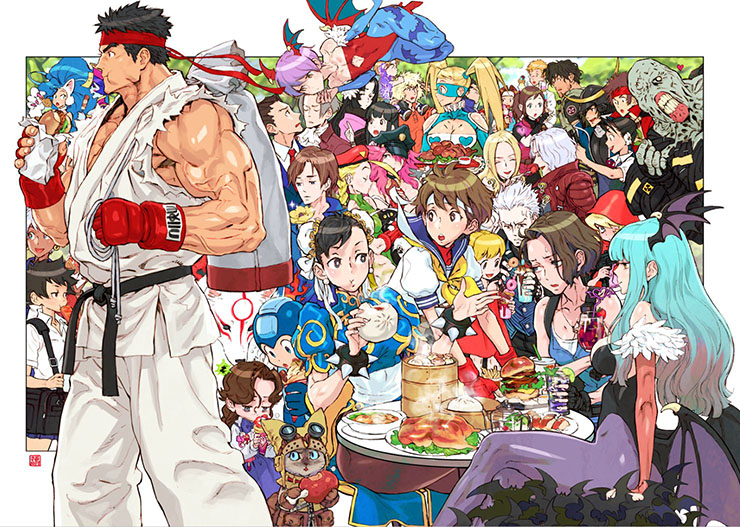 See who you can find among its 37 characters, but the full list of represented franchises is as follows: 
Street Fighter

Resident Evil

Devil May Cry

Mega Man

Ace Attorney

Sengoku Basara

Darkstalkers

Monster Hunter

Toraware no Palm

Ōkami
Impressive enough on its own, it will soon be used on a line of exclusive goods at the Capcom Stores in Tokyo and Osaka. These will include everyday use items, like mugs and clear files, as well as on a shirt and even phone and tablet cases. These crossover illustration goods will be available for a limited time starting January 22nd.
Leave a Comment