Pokémon GO is set to celebrate the newest Pokémon movie, Pokémon the Movie: Secrets of the Jungle, by bringing a Shiny Celebi Special Research event to the game, along with the return of everyone's favorite Team Rocket duo!
The Special Research story is inspired by the new Pokémon movie and features Jessie and James as guides. You'll have to complete the Research event to encounter Shiny Celebi! The event will start on Monday, December 14th, at 8 a.m. your local time.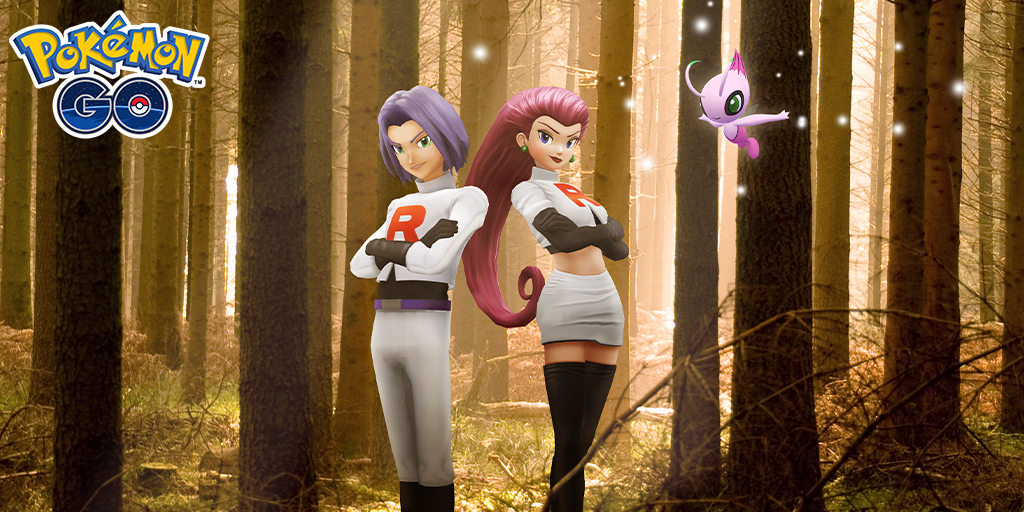 In addition to the Shiny Celebi, you'll also have the opportunity to encounter Explorer Pikachu, (making its Pokémon GO debut) in the wild and gym raids. A shiny version will also be available. For the ultimate catch-athon, you can find a plethora of Explorer Pikachu during Tuesday, December 15th's Spotlight Hour (6 p.m. to 7 p.m. your local time). 
Between Monday, December 14th, at 8 a.m. and Thursday, December 17th, at 10 p.m. (your local time), expect to see more Pokémon from Secrets of the Jungle appear in the wild:

Hoothoot, Nuzleaf, Drilbur, Cottonee, Dwebble, and more will be appearing more frequently in the wild. If you're lucky, you might encounter a Durant! 

Lickitung, Mawile, Flygon, Rufflet, and more will be appearing in Raid Battles.

Igglybuff, Smoochum, Elekid, Magby, Bonsly, and Rufflet will be hatching from 5 km Eggs.

If you're lucky, you might even find a Shiny Rufflet!
Also, on Friday, December 25th, Jessie and James's Meowth Balloon will appear more often. So, if you've missed the opportunity to challenge Jessie and James this may be your best chance yet! This limited-time event will only be available from 8 a.m. to 10 p.m. local time that day. 
Good luck, Trainers! Remember to be safe when experiencing the world while playing Pokémon GO.
Leave a Comment