UPDATE: Niantic has changed the event time and issued the following update:
Update 11/20/20 : Trainers, we have updated the timing of the Lake Legends event. The event will run from Tuesday, November 24, 2020, at 8:00 a.m. to Monday, November 30, 2020, at 10:00 p.m. local time. Uxie, Mesprit, and Azelf will be in raids from Tuesday, November 24, 2020, at 1:00 p.m. to Tuesday, December 1, 2020, at 1:00 p.m. PST (GMT −8).
---
The upcoming Lake Legends event in Pokémon GO is bringing Uxie, Mesprit, and Azelf to five-star Raids, with each Pokémon's appearance dependent on where you are playing the game. Alongside these five-star Raids, Pokémon commonly found near lakes, such as Psyduck, Goldeen, and Magikarp, among others, will be appearing more frequently. Also appearing more frequently will be Pokémon associated with knowledge, emotion, and willpower, such as Abra, Machop, and Ralts. Shiny Goldeen will make their sparkly debut in Pokémon GO during the Lake Legends event and can be found in the wild and/or hatched from 5 km eggs.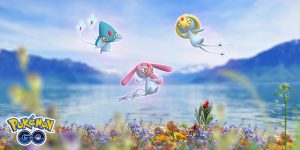 Pokémon GO's Lake Legends event will take place from Tuesday, November 24th, at 1 p.m. PT to Monday, November 30th, at 1 p.m. PT, so make sure you get out and explore (safely) to experience everything the event has to offer!
Leave a Comment