In 2019, tech accessory company CASETiFY brought Pokémon into their "co-lab" family. The timing was perfect, as Pokémon: Detective Pikachu was about to be released in theaters and longtime fans were eager for any details about Pokémon's new region, Galar. Initially, the plan was to release three different drops consisting of different designs on CASETiFY's site. Once the item was sold out, that was it. The "FOMO" phenomenon (fear of missing out) was real and a part of each release. 
Here at Nintendo Wire, we did write about 2019's releases. Personally, as much as I wanted to rock a phone case from the collaboration's first release — "Day & Night: I Choose You!" — I was sporting an iPhone 6 and was biding my upgrade time. (Case options were iPhone 7 and up.) FOMO was real for me and I thought that I wouldn't get another chance to own a sturdy and official phone case with Pikachu or Bulbasaur front and center. Thankfully, CASETiFY is continuing its co-lab with The Pokémon Company in 2020 and is taking 2019's formula (three different drops) by swapping in new designs for each release. 
2020's first release, "Past, Present, and Future" collection, is a remix of 2019's "Day & Night: I Choose You!" Sticking with the first gen roots, CASETiFY has traveled back to Pokémon's debut in North America, the late '90s. An era where tie-dye, chunky sneakers, and checkered-patterns were all the rage, they now return in the designs of "Past, Present, and Future" collection. Now, I know that this aesthetic isn't for everyone, but CASETiFY's designs check all the boxes in what they were trying to evoke. Mixing these with Pokémon isn't a stretch, especially when you put the designs next to Pokémon memorabilia of the '90s and early '00s.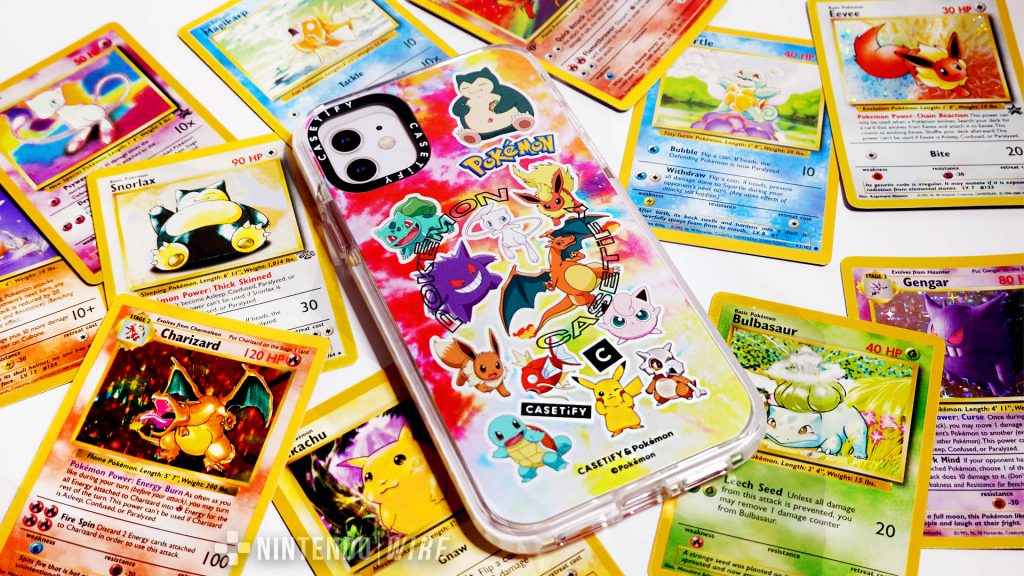 So what about the present and future? Fashion trends always come back and tie-dye is currently "in-style" this year, according to the fashion industry. Once its cycle has been deemed complete, it'll reappear again in all its colorful glory in 20 to 30 years. Welcome to the great big world of design and fashion forecasting! A land where something once new is now vintage and popular. Anything that carries nostalgia is an instant win.
Back to the collection, though. CASETiFY's lineup of accessories is varied, but mainly for Apple tech owners. If you happen to own a Samsung Galaxy S20, then you're in luck. Sure, there are only two phone case options to choose from, but given that these co-labs tend to favor Apple products it's surprising to see an Android-based phone included. For the rest of the Android community, there are more than just iPhone cases! There are some universal pieces being offered like the Wireless Chargers and 2-in-1 Grip Stands which, of course, aren't OS-specific.
Where you'll find the greatest variety of designs and options is with CASETiFY's drop-resistant phone cases. CASETiFY sent us three different iPhone 11 cases to photograph and review ahead of the collection's release. 
Regardless of what design you pick, all iPhone cases will have sturdy black or frost (white/clear) bumper. Pliable enough to pop your phone in or out of the case, it's still strong and ready for any surprise drops. The bumper's coverage for the side buttons is slightly raised, making them easy to find in a pinch. With just a push, they make satisfying clicks that are ASMR-worthy. 
As someone who had a cheap, "it's only temporary" phone case for an iPhone 11, I definitely see the perks of having a CASETiFY phone case. There's a big difference in quality between a $5 phone case and a $45 one, after all. I know that for some, $45 will seem a bit much for a case. In a way, it's true, as the market's pricing ranges from dollars to millions (thanks to a $2.7 million iPhone 6 case decked out in 6,000 diamonds). Designer brands aside, CASETiFY's line falls in the middle, price-wise, while not cutting back on its ability to survive a more expensive fall. Think Otterbox-like quality, but below the $67+ Build Your Own Case series (for iPhone 11) price tag.
So, should you pick up an item from CASETiFY x Pokémon's "Past, Present, and Future" line? If you're in the market for a new phone case (or need one that's of higher quality) and love the designs, then go for it. With how CASETiFY handles its releases, you may prefer another case from a future drop, or be disappointed that you waited and didn't buy a particular design you became smitten with. Based on previous CASETiFY releases, all I can say is that if there's a particular design/item you want, you'll want to order it ASAP.
CASETiFY x Pokémon's "Past, Present, and Future" drop is available to purchase now.
Leave a Comment