Just because you're playing games on a PC, it doesn't mean you can't still bring some Nintendo-branded comfort into the situation. X Rocker, a leading brand of gaming chairs, announced today that it has partnered with Nintendo of Europe to sell officially licensed Super Mario-themed chairs.
The X Rocker Super Mario Collections lineup consists of chairs featuring Mario, Luigi, Princess Peach, Yoshi, and Bowser (though no images have been released of the latter two characters just yet), each with bright and bold colors based on each character's iconic color palette. This set will be based on X Rocker's top-selling chair model aimed at younger gamers, the Video Rocker. The product line will launch in the EU from August 1st, 2020, in conjunction with UK-based retailers such as Argos and Smyths Toys.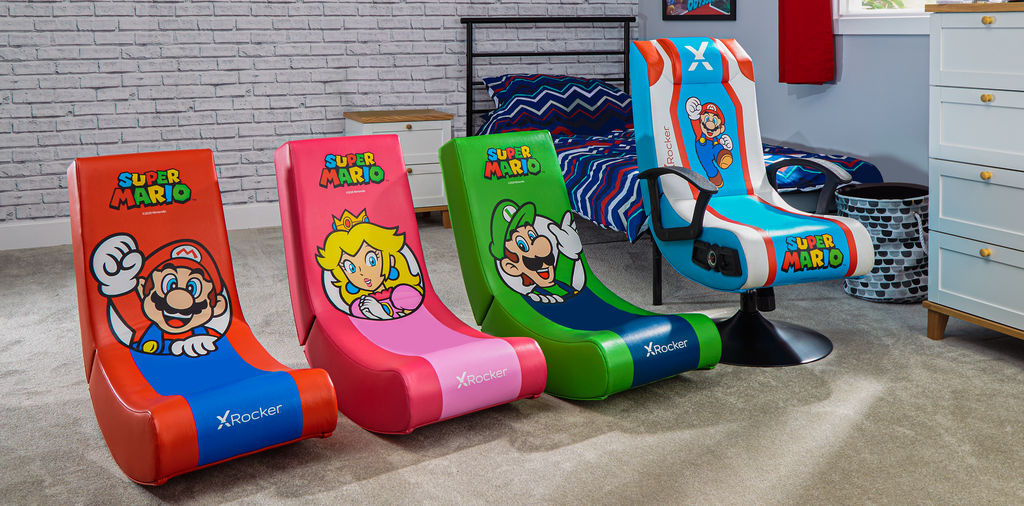 Another Mario-themed lineup based on X Rocker's new 2.1 Stereo Audio Gaming Chair was also announced, though it's not clear if these versions will launch in August like the aforementioned Video Rocker variants. This lineup promises "powered-up audio experience" and "three unique designs." You can see one of those 2.1 designs in the image below on the far-right, next to three of the Video Rocker chairs.
X Rocker also shared a quick promotional clip of the Mario chairs on Twitter.
XRocker and Nintendo bringing official Nintendo line of gaming chairs on August 1st 2020 in the UK. pic.twitter.com/LXsUXrKUyD

— Nintendad 🏠 #StayHome (@nintendad) July 23, 2020

Managing Director Gary Shaw shared his enthusiasm for the collaboration. "X Rocker is delighted to offer customers an amazing range of gaming chairs that have never looked better thanks to our partnership with Nintendo of Europe," Shaw says. "The characters of Super Mario are a perfect pairing with our market leading junior gaming rockers. These collections are just the start and we have even more to come. This year, more so than any, we all need reasons to smile and no-one does this better than Mario and his friends."
There are currently no pre-order or price details available, but looking at X Rocker's existing products may hint at what to expect. It looks as though Video Rockers tend to go for around £45, while the 2.1 Stereo chairs range from around £140 to £200.
I'm loving the look of all of the Mario chairs seen so far, but I'm seriously eager to see that Yoshi design.
Leave a Comment