Prepare for trouble, Team GO Rocket is taking to the skies in Pokémon GO and in real life! Over the last week, Professor Willow and the game's Team Leaders have been investigating Team GO Rocket thanks to some odd findings. First, the clues were scraps of paper depicting a new method of transportation for the Pokémon-stealing group, and then the strange happenings evolved into a glorious 'bang' thanks to an accidental "Send All" email from Team GO Rocket headquarters. 
Then the Drifblim was let out of the bag on Tuesday, July 7th. Team GO Rocket officially launched an all-out air assault and only the strongest Trainers can battle them! As of this posting, Trainers who are level 35 and higher in Pokémon GO have a chance at encountering a black and red hot air balloon hovering nearby in-game. Give it a tap and you'll find yourself face-to-face with a Team GO Rocket Grunt, one of the three Team GO Rocket Leaders, or even the founder of the organization, Giovanni.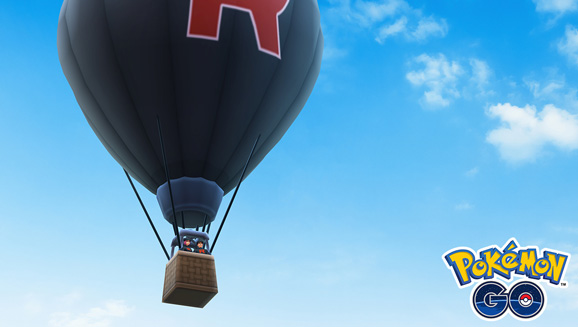 Similarly to Poké Stops controlled by Team GO Rocket, you'll be battling for rewards and a Shadow Pokémon encounter from the comfort of your own home. Thanks to the Pokéminers Discord and a thread on r/TheSilphRoad, we know that you can find up to four Team GO Rocket hot air balloons in-game per day.
Rocket Balloon schedule
Note: The following times will be in your local time zone. Times are in 12 hour and 24-hour formats for your convenience. 
00:00 – 05:59 | 12 a.m. – 5:59 a.m.

06:00 – 11:59 | 6 a.m. – 11:59 a.m.

12:00 – 17:59 | 12 p.m. – 5:59 p.m.

18:00 – 23:59 | 6 p.m. – 11:59 p.m.

Judging from previous rollouts, keep an eye on Niantic's support Twitter account. They've tweeted out when the feature was added for level 40 Trainers, followed later that hour by level 35 and up Trainers. Soon, everyone can join in on the "Blasting off again!" fun. In the meantime, you can check out the following video and prepare for your very own Team GO Rocket encounter!

As for the real world, the invasion has started off in Munich, Germany. An actual Team GO Rocket hot air balloon was spotted flying around the city. That wasn't it, as a number of graffitied Pokémon GO posters showed up too. It makes us wonder where will Team GO Rocket head to next. Perhaps to the cities that were supposed to host their own GO Fests/Safari Zone events? We'll just have to wait and see!
Leave a Comment