We're nearly two weeks into June already, which means it's high time we get some news about the latest figure in Funko's an Afternoon with Eevee & Friends collection! The Pokémon Center has revealed the fiery evolution through a series of images over on its Funko page — and as usual, they do not disappoint.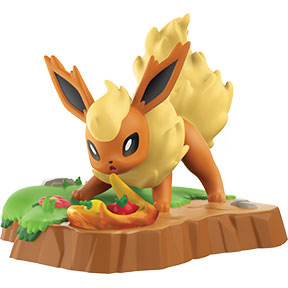 Flareon is ready for battle in a cute, yet striking pose for the Fire-type Pokémon. The ground it's standing on is split between a grassy field and a rocky dirt, giving the figure a nice placement in a subtle mix of two kinds of terrains. With Sylveon positioned on Flareon's left, and another Eeveelution placed on its right (yet to be revealed), the flame-centric 'mon stands out in a really lovely way among the entire series.

Per usual, you'll be able to order this latest An Afternoon with Eevee & Friends figure for $14.99 at the Pokémon Center once orders open up. A June date and time haven't been announced quite yet, but be sure to stay tuned, as we'll be sharing in-stock alerts for Flareon as soon as we get word of its arrival!
Leave a Comment