If you're familiar with the official Pokémon TCG tournament play rules, then you'll know that each season sees a number of expansions out the door and no longer eligible for play to make room for the newer sets. This has the added benefit of keeping the game fresh, with specific deck builds and cards not being possible for extremely long stretches of time before players have to refresh and try new things.
And of course, with Pokémon Sword and Shield having been released in November, there's a whole new Pokédex's worth of cards starting to make their way into the TCG.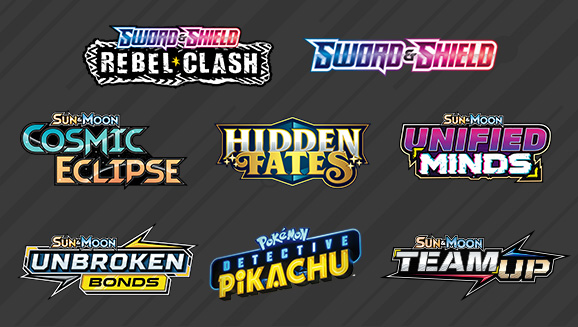 Today, the official Pokémon website has updated the legal setlist for the 2021 Pokémon TCG Championship Series season, which means players should be able to start creating and crafting their decks without worrying about certain cards becoming ineligible. For the Standard format of the 2021 season, legal expansions will include the following:
Sun & Moon — Team Up, and any expansions released afterwards

Cards from:

Hidden Fates (excluding cards from the Shiny Vault subset other than Lycanroc-

GX

SV67/94)

Pokémon TCG:

Detective Pikachu

Cards from McDonald's Collections (if they're functionally identical to a card that is currently legal in Standard format)
Additionally, it's important to note that any new expansions (such as the upcoming Rebel Clash on May 1st) will become legal for tournament play two weeks after their release date. So, once Rebel Clash is released, it will not be legal for tournament play until May 15th.
Starting with the Sword & Shield expansion, all Pokémon TCG cards come with a mark in the lower lefthand corner called a regulation mark. This is to make it easier to tell whether or not a card is legal in the current standard format. For the 2021 season, any card with a "D" regulation mark is legal to use in Standard format tournament play (as long as the set has been released for at least two weeks).
Finally, the Expanded format for the 2021 season will remain unchanged from the current Expanded format, which is as follows:
Black & White

, and any expansions released after
Black Star Promo cards labeled BW01 and up, XY01 and up, SM01 and up, and SWSH001 and up

Cards from:
Pokémon TCG:

Detective Pikachu
Black & White

Trainer Kit, and any Trainer Kits released after
McDonald's Collection 2011 and later

As with the Standard format, new expansions become legal to play in Expanded format two weeks after the release date. To see the list of cards currently banned from the Expanded format, you can visit the Pokémon website's official list.
Happy playing!
Leave a Comment