During the coronavirus pandemic, multiple precautions for stopping the spread of the virus have been integrated into our daily routines. One of the simplest tasks, washing one's hands, was broken down step-by-step last month. A popular way to time the 20 seconds of scrubbing is by song — this became a bit of a meme online back in March. People were drafting up their own lyrics, picking rocking ballads, and using Wash Your Lyrics to generate posters with whichever song you could think of. 
The "Wash Your Hands" meme isn't as popular as last month, but that hasn't stopped musicians from posting videos that you can wash your hands to. Members of New Japan BGM Philharmonic Orchestra (referred to as NJBP) have made multiple versions of Super Mario Bros.' Overworld Theme – Course Clear Fanfare that people of all ages can wash their hands to. 

These particular uploads have been dubbed "MARIO de Handwashing!" — and NJBP isn't stopping there. They're also running a donation campaign based on the numbers of retweets (Twitter) and shares (Facebook) of their videos. With a maximum donation of ¥500,000 ($4,642.77), NJBP will donate ¥ 1 per share/retweet of their posts to Japan's COVID-19 Relief Fund. 
Thank you to the members of New Japan BGM Philharmonic Orchestra for putting these videos together and giving us another way to add some Nintendo-themed magic to our daily lives.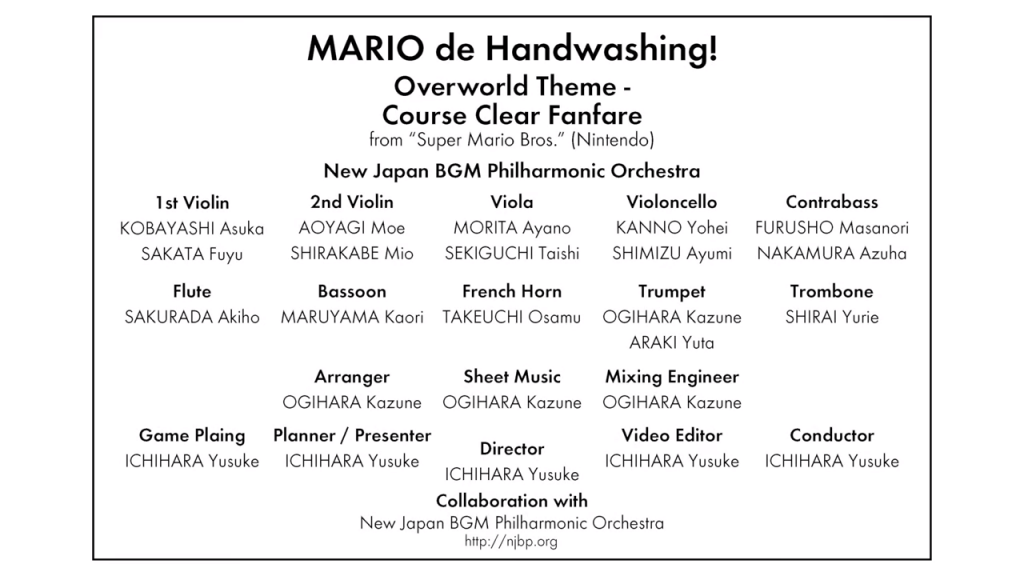 Leave a Comment