The Pokémon Center is wasting no time preparing all of the figures in Funko's An Afternoon with Eevee & Friends collection! Up next for release is the ever beautiful and sweet Sylveon, the Fairy-type evolution of Eevee. Have a look at what the figure looks like on its own and among its companions that were previously revealed in these product images: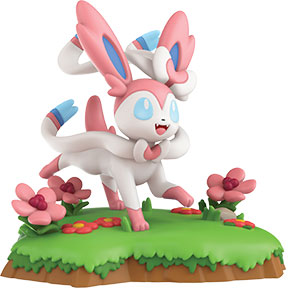 As you can see, Sylveon is shown happy as ever, frolicking in the grass among red and pink flowers, bows floating sweetly above it as if there's a gentle wind outside. Just as we've seen through the previous two releases — Eevee and Vaporeon — the figure fits absolutely beautifully with the rest of the series.
While the listing isn't yet live at the Pokémon Center, you can still check out the official An Afternoon with Eevee & Friends page to view Sylveon alongside the previous releases. A new email from the PC has revealed that Sylveon will cost $14.99 and will arrive on the site on April 21st at 9 a.m. PT.
Once the listing is live, we'll make sure to update this page and send out a notification on Twitter — so stay tuned!
Leave a Comment