It comes as no surprise to hear that Nintendo's doing pretty well in the mobile game market these days. With popular series like Fire Emblem and Mario Kart making their way to handheld devices, there's no way the video game giant couldn't be making waves in the sales charts. Most recently, Sensor Tower has reported that Nintendo has hit a huge landmark: more than $1 billion in lifetime revenue from global player spending has been generated through the App Store and Google Play.
Here's a breakdown of the six games that have brought in the big numbers:
61% ($656 million) has been brought in from Fire Emblem Heroes as the lead mobile app for the company, with Animal Crossing: Pocket Camp coming in second place with its 12%. The third game from the Big N to make a name for itself was Dragalia Lost, which stands at 11% of the revenue. Mario Kart Tour and Super Mario Run have contributed 8% and 7%, respectively, while Dr. Mario World has landed the last spot with less than 1%.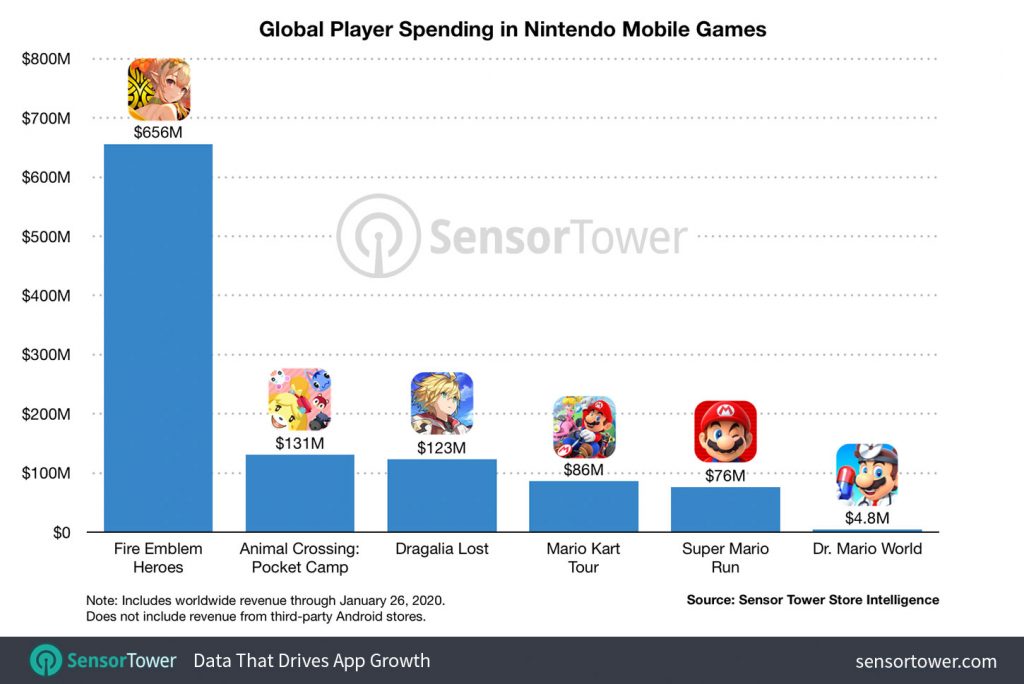 All six games have garnered 452 million downloads worldwide, yet most of the success appears to generate from Japan. 54% of its mobile game revenue has come from Nintendo's home market there, while the US has accumulated 29% of the total with $316 million.
Without a doubt, Nintendo seems to be doing incredibly well in the mobile market. If you're looking for even more insight on how the half a dozen mobile games have succeeded in bringing in new players and earnings for the company, definitely check out Sensor Tower's full report regarding the monumental financial achievement.
Leave a Comment