A special holiday-themed Dragalia Digest aired this evening, bringing brand new information about a few things that will be coming to the game after tomorrow night's 1.15.1 version update. To kick things off, the Agito Uprising is coming to Dragalia Lost. The brand new mode will debut on 12/25 at 10 p.m. PT. Rewards from the Agito Uprising will be used to craft new Agito Weapons, the first weapons to have a six-star rarity.
Also, following tomorrow's update, certain adventurers will be receiving an additional sixth Mana Circle, allowing them to power up to level 100 and granting additional upgrades to their abilities. The following Adventurers will be receiving a sixth Mana Circle at this time: Naveed, Ezelith, Cassandra, Euden, Karl, Botan, Aoi, Renelle, Alain, Joe, Xania, and Aurien.
A new Prize Showcase will be opening up on 12/25, allowing players to summon for special prizes consisting of rare items and materials like Sunlight Stones, Damascus Ingots, Golden Keys and more!
During the New Year's period, from 12/25 at 10 p.m. PT to ½ at 9:59 p.m. PT, there will also be a daily free Tenfold Summon Event running, for eight days, players can do one tenfold summon for free, for a total of 80 free summons. To go along with the New Year's period, the Year End event, A Sweeping Retrospective, has also been announced. Play special quests from Cleo during this event to clean things up around the Halidom to earn rupies and materials.
Players will also be given Lucky Letters as a gift from Hinomoto, opening them during the event will grant players special rewards. Speaking of Hinomoto, the New Year's raid event this year features a whole new cast of characters and a brand new Raid Boss! Last year's New Year's event was something special, and this year's is shaping up to be just as good, with plenty of special rewards available during the event, one of which is a New Year's log-in bonus!
Brand new item packs are also coming to the shop, along with two Platinum Showcase, with one guaranteeing at least one five-star adventurer and the other guaranteeing one five star dragon when you summon!
The version 1.15.1 update dropping tomorrow also includes a few new features, like an adjustment to the shop's layout, the ability to change teams when selecting a co-op room, an additional expert difficulty for Void Battles, and the ability to use the new auto-repeat feature during facility events.
Notte also announced that she has a gift for everyone, so players will be receiving a gift in their Goodie Box, which includes 500 Wyrmite, 30,000 Eldwater, and 3 Champion's Testaments.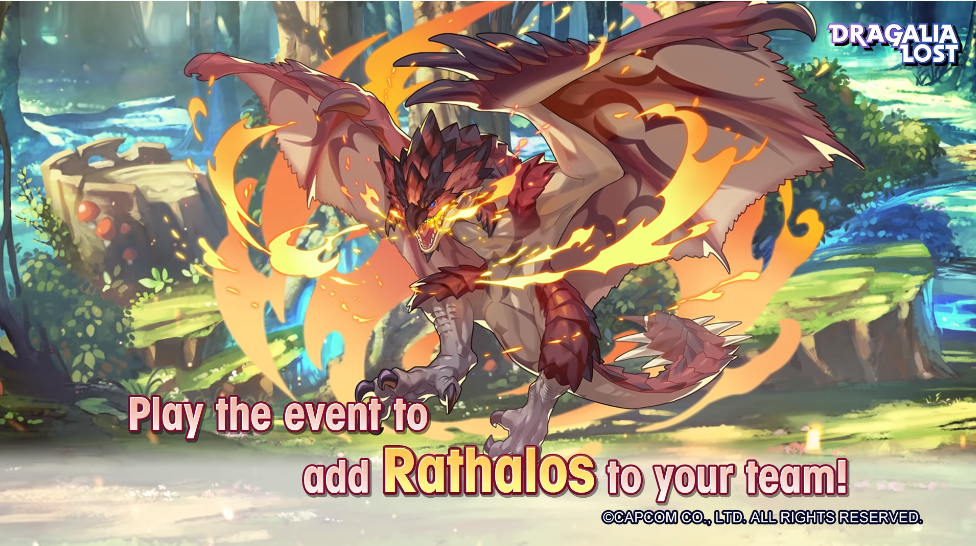 Finally, the Dragalia DIgest ended with an announcement of Monster Hunter collaboration for the end of January. Players will be able to add a Rathalos to their team during the event. That's all we know for now, but we'll be sure to keep you all updated as more details drop!
Leave a Comment