Dragalia Lost's first anniversary is just around the corner, and to celebrate, the game's resident fairy companion hosted a new Dragalia Digest! Things started off with an announcement of several bonuses that will be running during the ten-day anniversary event. First up is the daily anniversary log-in bonus, granting daily rewards like 5,000 Wyrmite, a new 5* dragon, 100,000 Eldwater, and more for logging in each day. Players will also be granted a free tenfold summon each day during the anniversary event, for 100 free summons total. A new retweet campaign will also be run to celebrate the anniversary, and one lucky player who retweets will win 100 Sunlight Stones, used to unbind five-star dragons, making them more powerful. Ten players who retweet will also be chosen to receive one of every five-star dragon currently in the game.
Next up, a new Gala Dragalia was announced, giving us our first look at the Gala Euden that everyone suspected was coming after the last story chapter ended. Gala Euden is a Light-attuned sword unit that comes with a new unique co-ability that grants 10% additional damage when shapeshifted, as well as increasing shapeshifting time by 20%. Not only that, a new Platinum Showcase summoning event is coming that will grant a guaranteed Gala Adventurer on the first tenfold summon initiated with Diamantium, the game's premium paid-currency.
First anniversary packs are also coming to Dragalia Lost's shop, these packs are usually a great deal on Diamantium with upgrade materials, split into packs that focus on adventurers, dragons, or weapons. Three five-star anniversary packs are also coming to the shop, letting players buy Diamantium bundled with a five-star adventurer voucher, a five-star dragon voucher, and a pack that is bundled with both five-star vouchers. These packs will only be available for a limited time, so don't miss out!
The social rewards are also being reset for the anniversary, meaning players can earn up to 2,500 Wyrmite just for playing co-op with new players. Three new stickers, used for communicating in co-op are also being added for the anniversary; one featuring Mym, one featuring Sarisse, and another featuring the both of them together. As always the brand new stickers are adorable and I can't wait to see them spammed in every co-op room I ever join. There will be plenty of chances to play co-op too, since a brand new Raid Battle event will be starting a few days after the game's first anniversary as well. Fractured Futures will have players collecting Quantum Cogs, which will be used to trade for one elemental five-star weapon of their choice.
Speaking of Raid Battles, they're being changed slightly, with the ability to join EX raids at any time, a huge change from having them randomly appear after completing a Raid Battle at a lower difficulty. New Omega Raids were also announced, but little information was given on them. Lastly, Raid Battles will now feature Raid Boosts, bonus boosts to adventurer stats and abilities that will be granted for completing various Raid Battle Quests during the event.
To finish off Notte's portion of the Digest, a few more quick announcements were made. The ability to change the background music of the home screen will be added to the game, allowing players to go back and choose their favorite home screen theme from any of the past themes that have been available — let's be honest though, who is going to choose anything but Cinderella Step? The Halidom facility is also being upgraded to periodically generate stamina-restoring Honey Tea, and players who are brand new to the game will be given a bit of a boost to their halidom by having their facility-building times cut in half if they start playing the game during the anniversary event. There's never been a better time to start playing Dragalia Lost if you haven't been already!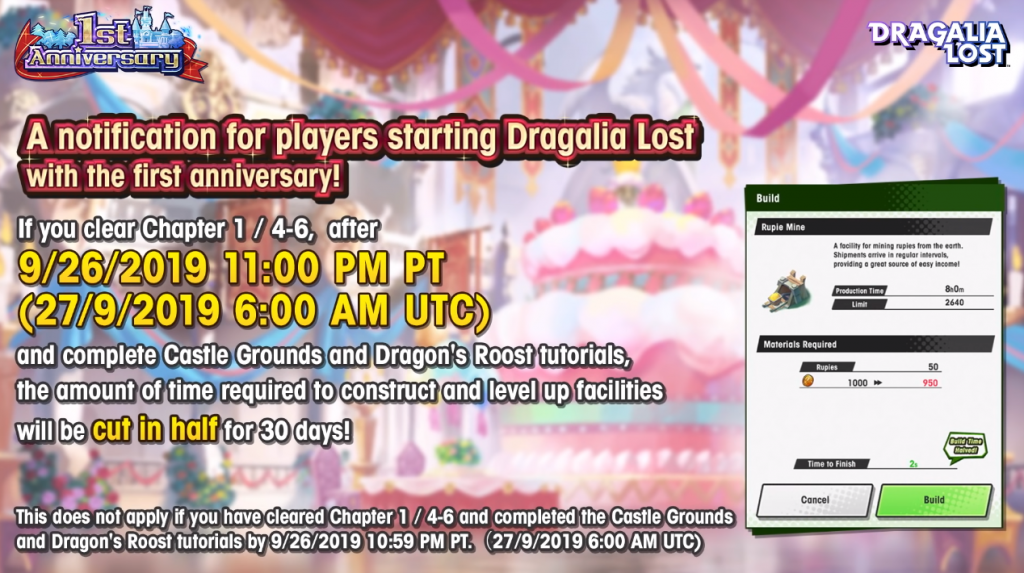 After Notte's segment, we were treated to a quick video version of "What's Ahead for Dragalia Lost" hosted by the game's director, Yuji Okada. New difficulties will be added to the already highly-difficult High Dragon Trials. The Expert difficulty for each Trial will always be available, but the Master difficulty will rotate through each Dragon Trial on a weekly basis. Beating these new difficulties will grant you materials to craft new High Dragon Weapons, which will be the strongest weapons in the game so far, each with two tiers of strength each. These new difficulties will be added sometime in October, along with a new time-attack ranking event for the Expert difficulties.
Before the end of the year, the ability for certain adventurers to unlock a new, sixth tier of their Mana Circles will be introduced, which will allow them to upgrade their stats and skills even further than already possible. Also being worked on are new bosses that will be even harder to overcome than the High Dragons already are, and special mention was made of the fact that these new bosses won't be Dragons at all. Also coming before the end of the year is Chapter 11 of the main campaign, which will be released sometime around December, and will follow up on the heavily impactful and mysterious events of Chapter 10, released earlier this month.
A quick page was then shown, featuring new additions to the game that they hope to implement by the game's one-and-a-half-year anniversary in six months. Among these are the ability to apply the effects of facilities that have been stored and are not on display in the Halidom, the ability to change the appearance of weapons, automatic quest replay, home page adventurer selection, the ability to play past events at any time, and an encyclopedia. That's quite a few things that I find very exciting and I know that a lot of players have been requesting some of these changes as well.
As a final, mind-melting treat, Director Okada announced Dragalia Lost's second crossover event, Mega Man: Chaos Protocol, will hit the game this winter. I'm not sure what I expected the second crossover that this dragon-filled fantasy game had would be, but I can tell you with certainty that no one was expecting Euden and co. to meet up with the Blue Bomber himself.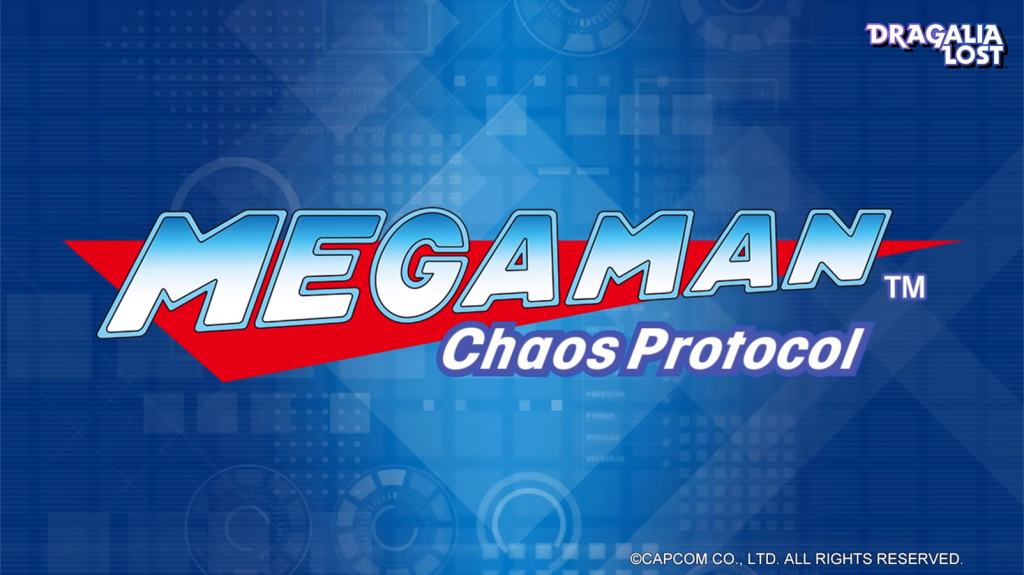 With Dragalia Digest over and done with, all that's left is to look forward to the anniversary celebration and beyond. Again, if you aren't playing Dragalia Lost, but have even a small amount of interest in it, now is the time to start playing. See you in the Halidom adventurers!

Leave a Comment