It's time to wake up! Build-A-Bear's Pokémon collection is continuing to grow thanks to the workshop's ties with Nintendo — and it doesn't look like that steady stream of releases is stopping anytime soon. Just announced today, Gen I's famously huge and snuggly 'mon, Snorlax, has arrived at the plush-building workshop…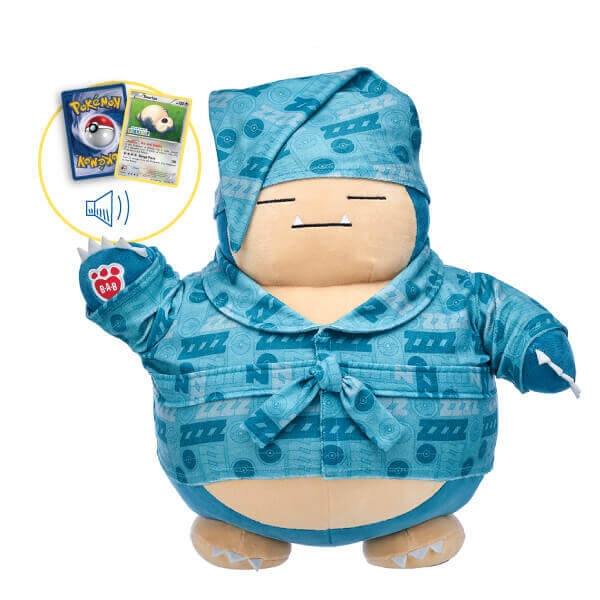 … and it's arrived in style! That's right, Build-A-Bear is bringing Trainers a ridiculously cute (and totally fitting) outfit and item pack for the Normal-type pocket monster. As if the 16″ sleepy plush wasn't adorable enough, a cozy robe, a sleeping cap, a 5-in-1 Snorlax sound chip, and a BAB Workshop exclusive Snorlax Pokémon TCG card are available alongside it. You can receive all these items together in the Online Exclusive Snorlax Bundle, with a set price of $57.

(Keep in mind that Snorlax is larger than the usual Build-A-Bear plush, so it won't be able to fit inside the standard gift box or Cub Condo that the company is known so well for!)
If you want to experience the greatness of building your very own Snorlax plush, you can do so by heading to your local Build-A-Bear Workshop, as the snuggly rotund giant is also available in-stores already. The plush can be purchased outside of the online exclusive package, in-store, for just $35 if that's the tune your Poké Flute is playing.
Let us know if you plan to get Snorlax on Twitter — we love seeing photos!
Leave a Comment