After my weekend of lines, panels, and convention exclusives at San Diego Comic-Con, the thing I keep going back to is just how much good it did my sweet tooth. At the Nintendo Gaming Lounge, a table was set up with different types and flavors of candy from an all new collaboration with Sugarfina. Now I'm pleased to report that the collab is live and available for order online!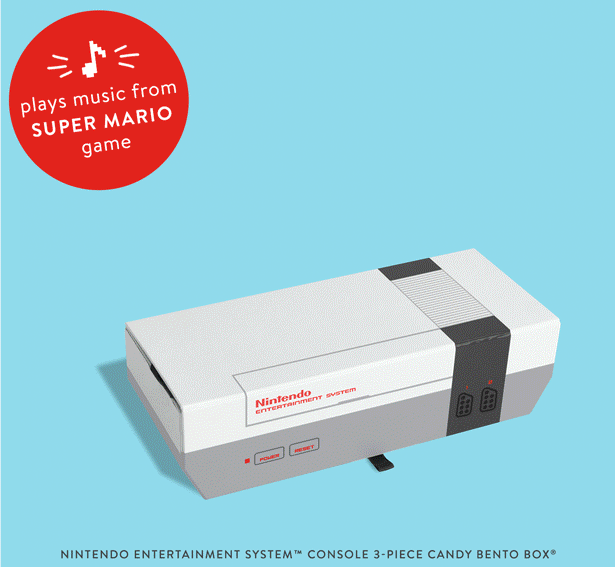 If you're unfamiliar with Sugarfina, they're a candy boutique by design and they bring both unique flavor and style to their creations. While there's plenty to tempt you over in their online catalog, the new Super Mario Bros. collection has six candies to choose from, each paired with a Mushroom Kingdom character in their own candy cubes. They include the following:
Mario Invincible Stars – a flavorful pineapple gummy

Luigi Green Mushrooms – a more subtle apple gummy

Toad Red Mushrooms – cherry gummy this time, and my favorite of those three

Princess Peach Pearls – lovely looking candy-shell coated chocolate

Goomba Chocolate Caramels – decadent with just the right amount of sweetness

Bowser Chocolate Eggs – chocolate and marshmallow, easily my top choice

While you can order these as individual cubes, if you want to try everything, you can get them in a set of six along with special Question Block wrapping to decorate with and turn them into sweet surprises. There are also two different candy bento boxes to choose from. These let you pick your flavors and will put them into special packaging: either two cubes inside an NES controller box, or three cubes into a NES console box that folds out to show a classic Mario level — complete with the Mario song. 
While the samples I received have lasted this long and have been go-to treats while writing (or, you know, just whenever), it might be time to restock. You can check to see if there's a Sugarfina location near you or place a custom order online to try for yourself. 
Leave a Comment