It's been a while since we've seen a new batch of amiibo cards in North America. For a while, it seemed like amiibo cards would be taking the world by storm with hundreds of Animal Crossing cards released, a Mario Sports set, and even a Shadow Mewtwo card that came bundled with Pokkén Tournament on the Wii U. But, alas, it wasn't meant to be. The cards stopped coming, and I personally thought that was the end of it.
But, here we are, in 2019 and Konami has just proven that amiibo cards aren't dead yet. (In Japan, at least!) Last week, the latest entry in the Jikkyou Powerful Pro Baseball series was released on the Nintendo Switch, and bundled in first edition copies was a fancy amiibo card, featuring the game's mascot front and center.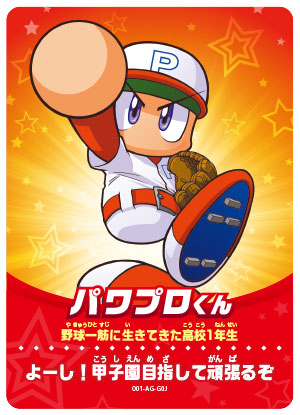 But that's not all. Konami, in their infinite wisdom, decided to release a total of six amiibo cards, each featuring a unique character from the series. However, the only way to obtain the other five cards was to pre-order the game at five separate retailers! That's right: If you want all six cards, get ready to buy six copies of the game. Sheesh. And I thought it was hard to be an amiibo collector before!

Each card allows the player to obtain a special item every day it's scanned and allows them to save progress to the card itself. Pretty cool. However, for amiibo completionists out there, this set may prove to be a challenge to assemble.
If you want to pick up at least one of these cards for you collection, you can import a copy from Play-Asia. You can even save 5% with the code NINWIRE at checkout. For those of you looking to import each and every one, you can find a list of retailers at Konami. Keep in mind, not all of them will ship to the US!
Leave a Comment