The famously-Kickstarted Shovel Knight is returning to the crowd-funding platform — this time in the form of a miniatures board game, Shovel Knight: Dungeon Duels.
Shovel Knight: Dungeon Duels is a one-to-four-player "competitive side-scrolling board game" produced by Panda Cult Games in "close cooperation with Yacht Club Games."
From the press release:
"It is time to sharpen thy shovel once again, Shovel Knight makes his auspicious return to Kickstarter in Shovel Knight: Dungeon Duels! Based on the hugely successful crowdfunded video game and made in close cooperation with Yacht Club Games, Shovel Knight: Dungeon Duels is a competitive side-scrolling miniatures board game for 1-4 players.

Each player plays as a different colored Shovel Knight, and will be shoveling out justice in spades against the evil Order of No Quarter while trying to grab the most treasure to prove that they are the one true Shovel Knight!"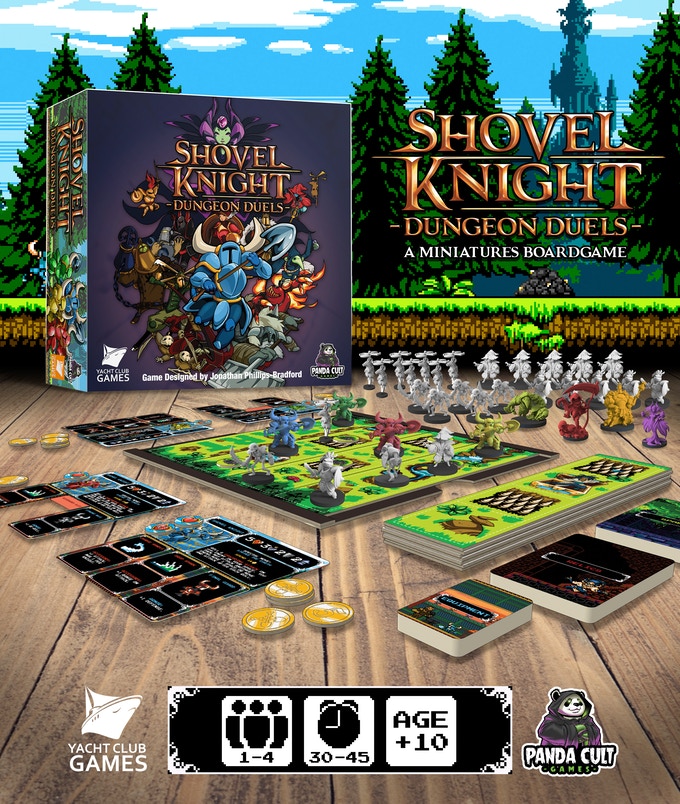 Interested backers can pledge $70 or more as part of the "Shovelry Pledge," which will earn them one copy of the board game, a Shield Knight model and hero card, and "all applicable stretch goals."
In each box of Shovel Knight: Dungeon Duels comes:
Four Shovel Knight pieces
One King Knight piece
One Plague Knight piece
One Specter Knight piece
One Enchantress piece
Eight Boneclang pieces
Eight Propeller Rat pieces
Six Wizzem pieces
Six Goldarmor pieces
16 dungeon tiles
One tile tray
16 potion vat/spike space cards
One rulebook
16 equipment cards
Four hero cards
16 spawn cards
16 relic cards
Four boss stat cards
32 boss AI cards
40 gold tokens
20 treasure tokens
40 health tokens
12 engraved dice
Multiple stretch goals have been planned "depending on funding," with extra content added directly into the core box.
One so far has been outlined: By reaching $90,000 in fundraising, playable boss hero pieces of Specter Knight, Plague Knight, and King Knight will be put into Shovel Knight: Dungeon Duels.
According to the Kickstarter page, the game is played by trying to gather the most gold through defeating enemies, digging up treasure mounds, hurting bosses, or by taking them from a rival Shovel Knight.
Players can also enjoy other "unique elements," like side-scrolling tiles, equipping armor and accessories, jumping over spiked pits, and fighting the Shovel Knight video game's Order of No Quarter.
Established in 2017, Panda Cult Games is best known for Kickstarting a line of miniatures called "Wander," along with a later board game centered around it, "Wander: The Cult of Barnacle Bay."
As of this article's publication, the Kickstarter has raised $11,194 of its $80,000 goal so far, with 174 backers and an "all-or-nothing" end date of July 27th at 11:55 a.m. PST.
The game is expected to ship next year.
Interested in knowing more about Shovel Knight: Dungeon Duels? Check out the Kickstarter page linked above, the official "work-in-progress" rule book, and Panda Cult Games' "how-to-play" video:
Leave a Comment