Studio MDHR has been basking in the release of Cuphead on the Nintendo Switch. Thanks to its recent arrival, the once Microsoft-only game is branching out to even more fans now. With this resurgence, we've seen more Cuphead themed merchandise getting released in a variety of ways. Today, Studio MDHR tweeted out a brand new piece of artwork that you can purchase thanks to iam8bit.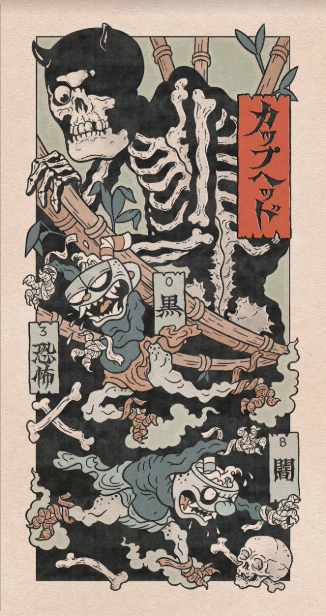 A collaboration with Japanese horror punk band Balzac and artist Stephen Winiecki, this five-color, limited edition woodblock print is mashing up the style of 1930s cartoons with the Ukiyo-e aesthetic. Limited to a print run of 100, Balzac's "Skullman" character is hunting down Cuphead and Mugman — in their Evil Cuphead and Vile Mugman forms. The print is priced at $150 and will be shipped out between July 1st and September 30th of this year.
As someone who has studied printmaking, the process of making a woodblock print is a tough, time-intensive process. Yet, the results can be phenomenal. The chance to own a print of this caliber is not one to pass up. Just make sure that the piece is professionally framed so it can withstand the test of time.
Leave a Comment