Pokémon Center shops throughout Japan always have a campaign going on. Tied to holidays, merchandise releases, films and more, stores are now celebrating the Pokémon: Sun & Moon anime alongside Pokémon: Detective Pikachu.
Loosely translated as "Pokémon Center Anime de Happy Campaign," the promotion began earlier this month. The first part of the event began with pop-up photo spots at select locations. Featuring different characters and backgrounds from the show, there are a total of four different setups. Participating locations are only hosting one at a time, swapping for the next design approximately every 11 days. Combine this with a character sticker campaign and newly design purchase bags featuring promoting the anime and Mewtwo Strikes Back: Evolution, we're only missing one more thing –Pikachu meet and greets!
This time it's a bit different. Normally, Pikachu would be wearing a cute outfit that would reflect the current event's theme. Since this promotion is all about the anime, Pikachu doesn't really have a daily outfit. What he does have is a Pokémon Trainer!
Yes, enter Satoshi — aka, Ash Ketchum.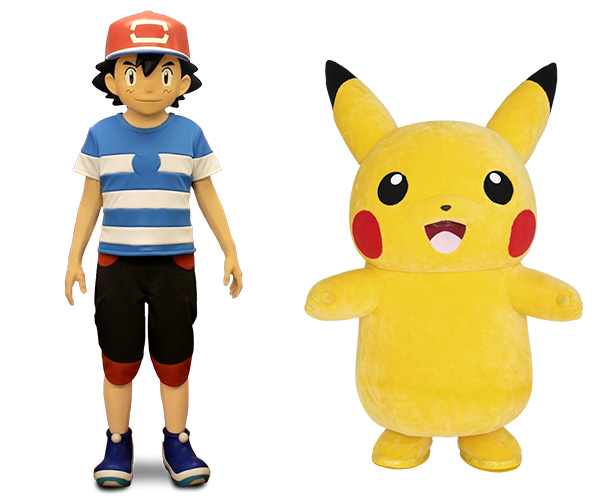 The boy who never seems to age is appearing, but not as a "face-character" (a term used to classify a character's costume that allows the actor/actress' face to be shown). No, the Pokémon Company has decided to create a full-suit outfit that reflects Ash's current look in Pokémon: Sun & Moon. A bit jarring as a still photo, but luckily, in motion, it's a tad better:

If you're located in Japan and want to see Ash and Pikachu in person, then you can check the current schedule for The Happy Anime campaign on the Pokémon Japan website. Be quick though: you'll only have until May 26th to meet them!
Leave a Comment