Update: It looks like tickets for the Chicago Fest have sold out!
Attention, Trainers! 📢
All tickets to our #PokemonGOFest2019 in Chicago have now been sold! It's going to be an amazing summer! ☀️ pic.twitter.com/YVwQv3jpyk

— Pokémon GO (@PokemonGoApp) May 3, 2019

Read the article below for more info about the event.
---
Niantic is bringing Pokémon GO Fest to Chicago for the third year. One big difference this time around is ticket sales and distribution. In a bid to eliminate the secondhand ticket flipping market, a ticket lottery is being implemented. Not only that, but Pokémon GO Fest 2019 will be a four day affair, and with players being limited to participate for one day, more Trainers will be able to partake.
Starting now and until April 24th at 7 a.m. PT | 10 a.m. ET, you can enter the ticket lottery via your account through the Pokémon GO app. Following the steps provided, you'll be asked to confirm your email address. From there, you'll have to wait.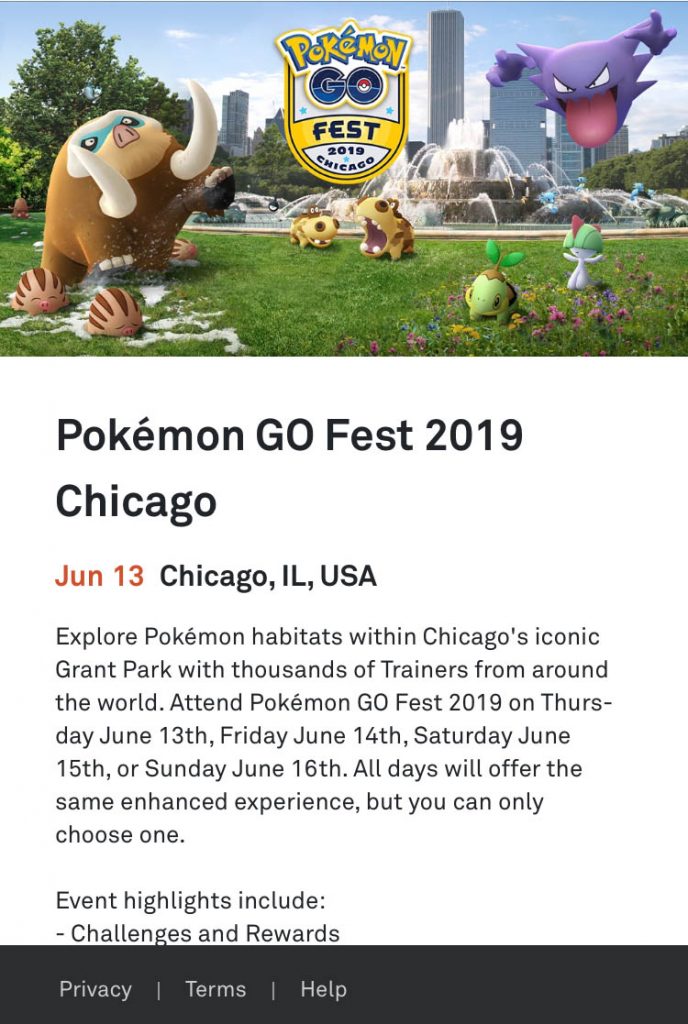 One feature worth mentioning about the signup process involves buying tickets for friends. If selected, you'll be able to buy tickets for both you and your friends, provided that they have Pokémon GO accounts and that you've reached the "Great Friends" milestone. You can purchase up to four tickets and you'll need to input your friends' Trainer names. (All tickets will be tied to Trainer accounts.) Niantic states that altering tickets in terms of dates or names is a no-go. Two ticket types will be offered — General (event access from 11 a.m. – 7 p.m.) priced at $25, and Early Access (event access from 9 a.m. – 7 p.m.) for $35.
Pokémon GO Fest 2019 Chicago will be taking place on June 13th through 16th at Chicago's Grant Park. Can't make it to the event? Don't worry, Niantic is promising that "many Pokémon featured in Pokémon GO Fest habitats will be appearing all around the world on June 13th – June 16th."
Good luck, Trainers!
Leave a Comment