Unsurprisingly, after all these years of popularity, Eevee has become somewhat of a secondary mascot to the Pokémon franchise. While I personally don't ever think it'll ever be in the spotlight in the same way as our favorite yellow mouse, Eevee is a fan-favorite and, as of late, a Pokémon Company favorite — so it should come as no surprise that Eevee has gotten a lot more attention when it comes to features and merch.
One of my favorite things to come out of the Pokémon franchise in the past couple years is the giant inflatable dancing Pikachu costumes, which are both maximum impressive and adorable. These videos have put many a smile on my face, and anytime I see one of them on Twitter or Instagram I make time to watch it.
So, imagine my joy when I found out they'd made giant Eevee costumes as well.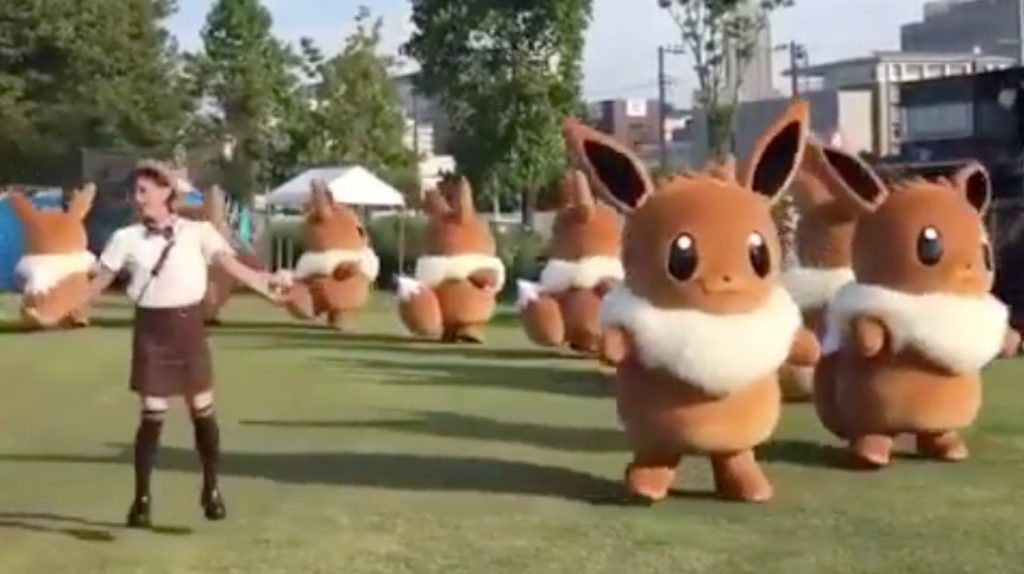 In order to expand on the craze, about a year and a half ago the Eevee costume appeared in Japan, though notably in an unconfirmed setting. Slowly but surely, we started seeing Eevee appearances alongside Pikachu, though the dancing Pikachu army was still the primary focus when it came to giant dance marathons, and videos of Eevee doing the same were not nearly as easy to come by.
I think that's why this video on Instagram of a group of Eevee dancing to a rendition of the Tetris theme is so charming. It's not a particularly complicated dancing, but watching a circle of giant Eevee led by a single human girl, bouncing and stepping in beat to the Tetris theme of all songs is somehow more entertaining than I could have guessed.
Check it out for yourself on the @pokemon_daily_ig_ Instagram account, and if you find any more videos of Eevee being as cute as this… make sure to send them my way.
Leave a Comment