Later this week a brand new shadow-element facility event, the Accursed Archives, will be coming to Dragalia Lost, and the game's official twitter account has released a video showcasing the Summon Showcase that will be available alongside the event. Sharing a name and elemental focus with the event, The Accursed Archives is bringing two new five-star adventurers, a new five-star dragon, as well as three new wyrmprints of varying rarity.

The Summon Showcase for the facility event The Accursed Archives is coming! Take a closer look at some of the new adventurers, dragons, and wyrmprints appearing in this event in this introductory video. #DragaliaLosthttps://t.co/akI69f5v6R pic.twitter.com/X7gPEI4DBs

— Dragalia Lost (@DragaliaLostApp) 11 March 2019


First up is Dragalia's first five-star shadow-element staff adventurer, Heinwald. Despite being a healing unit, Heinwald's skills look like they'll be packing a punch – the first deals damage to surrounding enemies while also healing his entire team, while his second boosts his strength by 20% and boosts the strength of his team by 10% while also increasing the power of his first skill. As far as passive abilities go, Heinwald increases the potency of all healing skills on his team by 20%, does 35% more skill damage with HP above 70%, and is completely immune to paralysis.
Our next adventurer, the axe-wielding Curran, has a much more straightforward skill set. Both of his skills deal shadow damage to enemies directly ahead of him when used, and his passive abilities increase the whole teams defense by 15%, he gets a 13% damage increase to enemies in Overdrive, and his strength goes up by 50% the first time his health hits 30%. On top of all that, Curran does share one ability with Heinwald, he is also immune to paralysis.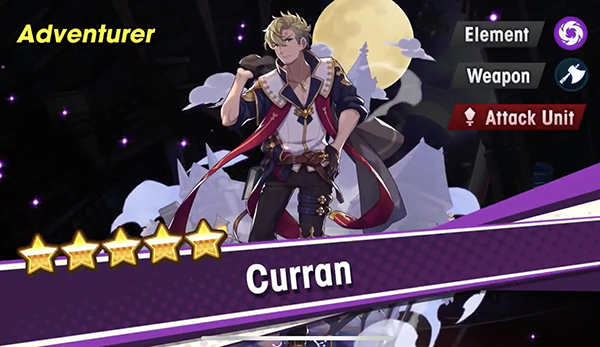 The five-star dragon on the showcase is the shadow dragon, Nyarlathotep. That mouthful of a name is borrowed from the works of H.P. Lovecraft, where it is referred to as The Crawling Chaos and is a being with a thousand forms, most of which are maddeningly horrific. In Dragalia, meanwhile, Nyarlathotep's main ability is an All-Encompassing Darkness, an attack that deals massive shadow damage to enemies directly ahead of it. When equipped to a shadow adventurer, Nyarlathotep increases strength by %50 as long as the adventurer's HP stays above 30%. Should their HP drop below 30%, a one-time shield is granted that will negate any damage that is 60% less than their maximum health.
The three wyrmprints being added with this Showcase all add a few buffs and have the added effect of increasing rewards from The Accursed Archives facility event. There is one wyrmprint for each rarity, five-, four-, and three-star, and the rewards bonus gets greater and greater the rarer the wyrmprint gets.
If this Summon Showcase is anything to go by, The Accursed Archives is shaping up to be a great facility event, with plenty of creepy new content to go around. The Accursed Archives facility event and Summon Showcase begins at 11:00 p.m. PDT tonight, March 11th.

Leave a Comment