The next summoning banner for Dragalia Lost is upon us, set to coincide with the upcoming Raid Boss event, A Waltz with Fate. The banner, titled Thunder and Splendor, features Light-element adventurers, all new Wyrmprints, as well as a new Light-element Dragon.
Front and center for Thunder and Splendor is the ever-popular Albert, a five-star, sword using Light adventurer. Now, Albert is brand new to Dragalia Lost, why would I be assuming that he's already popular? Well, you see Albert is a recurring character in a few different Cygames titles, and has been previously featured in a Wyrmprint, Levin's Champion. Known as the Thunderswift Lord, Albert can harness the power of lightning, giving him his first special ability, Lightning Burst. Albert's abilities can also be upgraded so that he's able to inflict paralysis with his Force Strike. Thunder and Splendor's featured dragon is the all-powerful King of Kings, Gilgamesh, a massive Light dragon that wields a sword for his special ability, Subjugating Sword. Light adventurers who equip Gilgamesh with also see a 50% strength increase and 15% more resistance to attacks from Shadow-element opponents.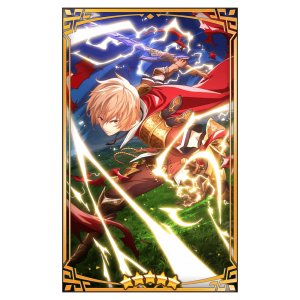 The summoning banner also features two five-star Wyrmprints, The Shining Overlord and A Solitary Light. The Shining Overlord comes stacked with two skills, increasing skill attack damage for sword users by 35%, as well as increasing the adventurers strength for the remainder of the battle each time they shapeshift into a dragon, up to three times. A Solitary Light, on the other hand, will stop an adventurer from becoming afflicted by a status ailment up to three times during a quest, and will reduce damage from Shadow-element attacks by 8% when equipped
The official Nintendo Mobile YouTube account has also put up a trailer for the upcoming banner, showing off two more adventurers and two more Wyrmprints, one four-star and one three-star of each. Most notable is the fact that Dragalia Lost will finally be getting its first swordswoman along with its first adventurer using a melee weapon with a healing skill in the same new adventurer, the four-star Odetta. The three-star adventurer, Jakob, wields a lance and is off-element for the banner, being a Water adventurer rather than Light. The four-star Wyrmprint offers 20% skill-prep as well as 5% recovery potency, and the three-star Wyrmprint grants a 20% resistance to the Bog affliction.



Overall Thunder and Splendor is looking like a pretty tempting banner, giving us a few firsts for Dragalia Lost, but with so many Light-element adventurers already available, will you be spending your hard-earned Wyrmite?

Leave a Comment