The anticipation for Wednesday, February 27th, is building. The Pokémon Company has a slew of activities and announcements to celebrate the franchise's 23rd birthday. This hasn't stopped fans from celebrating early — and Pokémon GO is joining in!
From the official Pokémon GO Twitter page and blog, Pokémon Day is being celebrated over a 48 hour period. The Kanto region will be the star of the show here, along with some Shiny versions and flower crown variants of some Pokémon!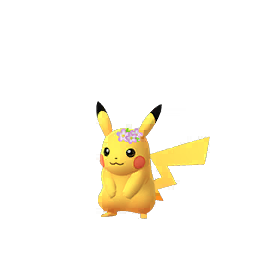 Here are the full details from Niantic:
Date + Time:
Feb. 26, 2019, at 1:00 p.m. PST to Feb. 28, 2019, at 1:00 p.m. PST (GMT −8)
Features:
Pokémon that Trainers encounter early on in their adventures through the Kanto region will appear more frequently in the wild!

Pokémon originally discovered in the Kanto region will be available to challenge in Raids.

Pikachu and Eevee wearing flower crowns will make a special appearance as Field Research encounters and in the wild.

In celebration of Pokémon Day, you may even encounter Shiny Pidgey and Shiny Rattata!
Flower Crown Pikachu and Eevee? Yes, please! The new camera feature arrived at the perfect time.
Have fun out there Trainers, and good luck hunting down these special Pokémon!
---
Thanks to @Chrales on Twitter for sharing the renders of Pikachu, Eevee, and the Eevelutions!
Leave a Comment