One of the stories I have been most involved with is the shockingly secretive development of Super Nintendo World at the various Universal Studios parks. And while rumors about what may or may not be included in the parks have been flying around for months, the construction at Universal Studios Japan has been full steam ahead to get the expansion finished by the 2020 Tokyo Olympics.
Japanese website L.C.A. Studios has released a mock-up of what the layout of Super Nintendo World may look like based on current scaffolding being erected in the park, as well as the announcement trailer and various pieces of concept art.
Nothing in these mock-ups is very different from what we have seen before, but gives a good sense of scale. If the pictures are accurate, the rumored Mario Kart ride, which uses Bowser's Castle as its entrance, will be housed in an absolutely massive show building.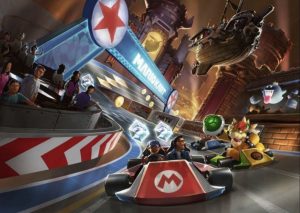 The photos also show how the warp pipe entrance to the area is a clever way to hide the fact that guests are actually crossing a bridge over a road. The post theorizes that the warp pipe will let out into Peach's Castle, which is located on a raised second floor.
The author also wonders if the warp pipe will be the only entrance to the park, which could be troublesome, as the (currently) single-entrance Toy Story Land at Walt Disney World showed that a new park with one way in and out can be chaotic.
We will keep you up to date on any Super Nintendo World info, but if you have any photos of the construction of the parks, be sure to send them to us on Twitter!
Leave a Comment