The Kirby Café's stay at Tokyo Sky Tree is just about over, but some news has come along that's sure to fill up fans with happiness just as much as food. While the location will close up for a little bit at the scheduled date of February 18th, it will re-open on the 26th of the same month and stick around all the way into early June. It's not going to be the same old, same old either, as the menu will be expanding for new offerings both savory and sweet.
Whispy Woods is still getting featured as a ceramic bowl, though this time it's for a pairing of coffee and vegetable curries complete with a rice Warp Star with a Kirby riding on top for good measure. There's a new ceramic server too, with Kirby inhaling a unique take on hot dogs. It's both a decoration, and advice on how to eat your food all in one!

Kirby's pulling double duty here with a special mug based on his café chef job. Taking the hat off will reveal a warm soup with pasta, served alongside some cheese toast modeled after Maxim Tomatoes. Speaking of which, there's a mug based on those health items too, used to serve up a refreshing plate to help get you through the day.
Last we have another Chef Kawasaki special. This time, he's serving up a parfait, but rather than the usual tall class, it's set up inside his signature frying pan, complete with garnish based on his cooking pot. Drinks are important too, and capping off the menu is a Star Allies themed cocktail, with a Friend Heart floating in the drink itself.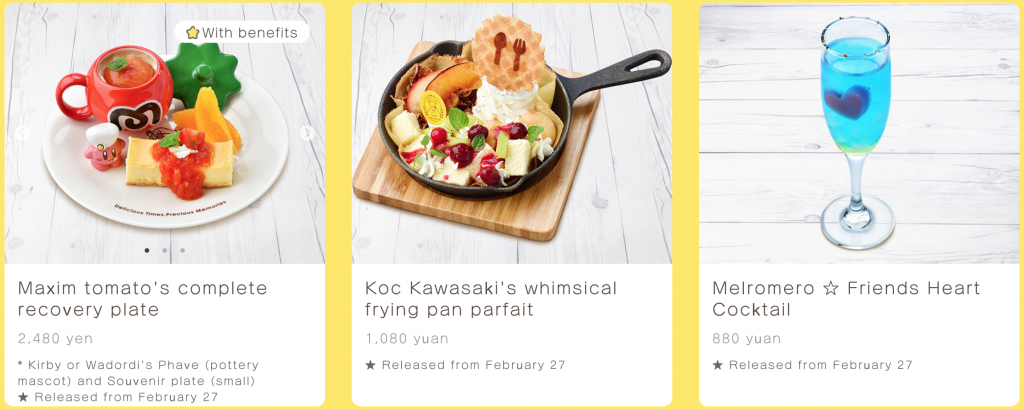 It's not just new food though, as the café goods are also getting expanded. You can purchase all the special ceramic serving dishes already mentioned, but the real stars are the mascot sized plushes of Café Kirby and Waddle Dee. Other than those, there are some new goods for phones, with multiple types of cases and even multiple styles of portable USB chargers. It's the perfect way to make sure your phone is safe and charged on your next café trip photo session.
It's a good time to be a Kirby fan, and anyone visiting or living in Tokyo should definitely consider taking a trip to the location. There's an online reservation system for both the Kirby Café and shop on the official website, so any vacationers can secure themselves a time and eat up all the cuteness.
Leave a Comment