Nintendo's latest mobile effort may not be a month old yet, but it's already getting into the spirit of the season of scares and sweets. A pair of Halloween events have arrived in Dragalia Lost, one based on completing maps and gathering resources and the other a special summon showcase with four, new Halloween versions of existing characters and a few other tricks and treats.
The Trick or Treasure is what the game's calling a facility event. By building a special Sweet Retreat in your castle you'll power up light aligned characters, and by completing various event only maps and enemies you'll gain treasures that can be traded for materials, wyrmprints, and more. If anything else, it's a chance to gather up something called a Snack-o'-lantern.

For those looking for new characters, the Halloween Fantasia brings three: one dragon, and two wyrmprints. Main character Elisanne takes on a pumpkin themed costume for the holiday as an extra rare five star character, while recruitable adventurers Althemia and Edward arrive at four and three stars respectively in their own new outfits.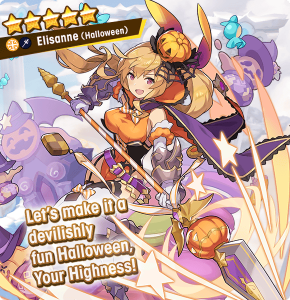 Dragons can dress up too, with Silke getting a new look and like the three characters changing to the light element. Lastly, the two special wyrmprints feature new art and will help you gather up Tricker Treats for the above event.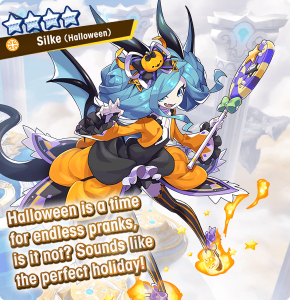 Trick or Treasure will be running in game til October 25th, with the rewards claimable til the end of day November 1st. The Halloween Fantasia summon showcase will be ending on the night of October 30th, giving players time to gather up wyrmite or run the risk of caving in to microtransactions.

Leave a Comment