The Eevee event tease yesterday did not disappoint! The Poké Ball Scavenger Hunt kicked off in Animal Crossing: Pocket Camp this morning and it's already in full swing. Simply gather the Poké Balls that are scattered around your map and then craft Eevee items when you acquire the necessary number of Poké Balls.
Check out the official list of event items:

Keep in mind that Leaf Tickets are required to craft the Poké Ball, the Poké Ball chair, and the Poké Ball rug. So if you're hoping to add all those to your collection, you'll want to start saving up those tickets before the event ends! Pocket Camp is even helping you out by giving you the chance to obtain Leaf Tickets through Isabelle's Goals — you can make things easier on yourself by completing those. And on top of that, there are also Poké Ball Hunt Packs available to purchase in the shop, so buying those is another option if you have a few extra bucks to throw around.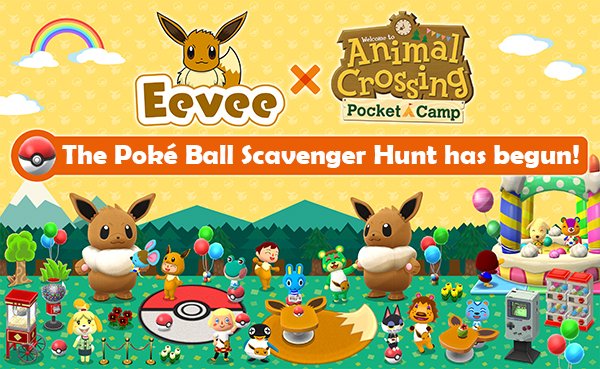 To get you in the spirit of things, the game has already gifted all players with the Eevee hood, so you can head over to your mailbox as soon as you sign in the game, claim it, and then wear it around… forever! (Yes, it is that cute.)
The scavenger hunt will last until October 23rd at 12:59 a.m., so you have plenty of time to try to nab all those Poké Balls. Good luck and stay cute, campers!
Leave a Comment