It's a new day in the world of Animal Crossing: Pocket Camp and with it comes some new goods flashier than an electric eel. There might be some undersea pressure to grab it all what with how fresh it all looks, but we've got you covered with some squidtilectual insight for getting your tentacles on every last piece.
Fortune cookies
First up contains the hardest items to acquire: the new Splatoon 2 fortune cookies. Unlike most cookies, this batch has two spotlight prizes. You'll need a dash of luck to grab both the pink and green spawn points, but even if you don't get that you might walk away with plenty of Splatoon fan-familiar weapons, sub-weapons, and decor for your campsite. Too bad there's no Judd to tell you if it's more pink or green, though. These'll be around from today 'til October 10th, costing you some Leaf Tickets to grab at your own convenience or some Bells if they happen to be for sale at the Fortune Cookie Shop for you on a given day.
Scavenger hunt
There's also an in-game scavenger hunt currently going on, functioning like past Gyroid events, though this time you'll be gathering Blitz Clams instead. These prize bivalves from Splatoon 2's most recent Ranked Battle will be strewn about each location in Pocket Camp. Pick 'em up off the ground or start shaking those trees, because each one you get will go towards creating some new Splatoon 2 themed clothing items. This is where you want to go if you want to start looking like Splatoon 2's Inkling Boy or Girl, giving you their full outfits. The only catch is their hair and headgear — these will set you back some Leaf Tickets as well. The hunt is on from now until September 24th.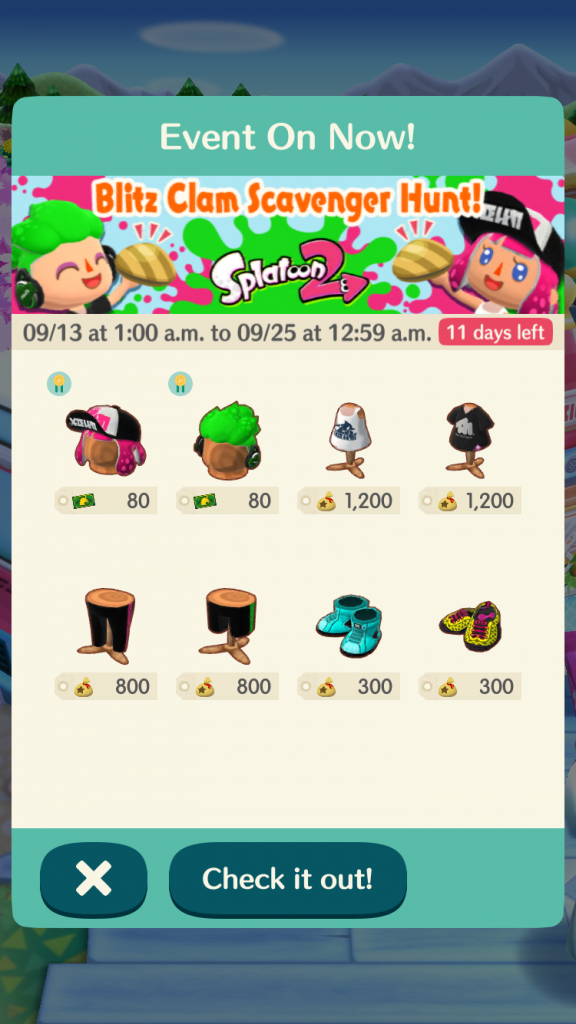 Login freebies and fishing tourney
If you don't feel like doing much work or counting on your luck to get your Inkopolis fix, Nintendo's also giving a few pieces away for free for just logging into the game. From today to October 12th you can get a purple version of Splatoon 2 Inkling Girl's hair and hat, and starting later on September 17th and 22nd respectively (and lasting a month each), you can also get a familiar tee and hoodie from the game, too.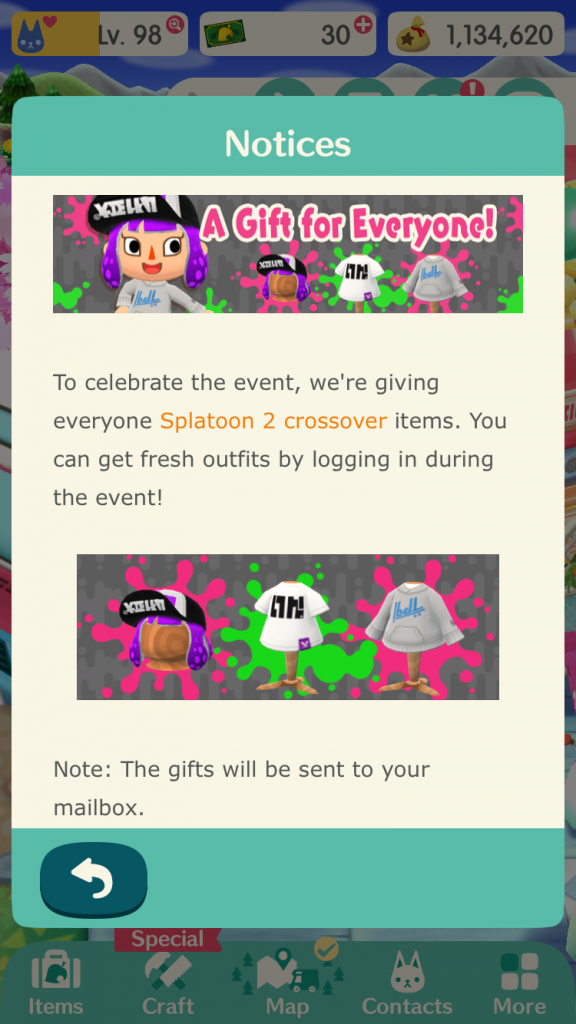 That's not all: another Fishing Tourney is on the way starting September 18th, and we'll be catching Splatoon squids themselves to gather up prizes.
Even if some of the Splatoon 2 content is locked behind luck and Leaf Tickets, this is still more extensive than the previous Super Mario collab by a fair amount. There's still a lot of potential, like looks from the first game and the likes of Squid Sisters and Off the Hook, so here's hoping the next phases of the collab deliver just as much inky greatness. Stay tuned for any updates, and look forward to hopefully some more Nintendo crossovers in Pocket Camp.
Leave a Comment