Hot off his Odyssey, a new line of Super Mario Travel goods are making their way to Japan soon.
Featuring some new, great looking designs alongside some iconic looks and features, these are the perfect way to get from A to B with a little "M," for good measure.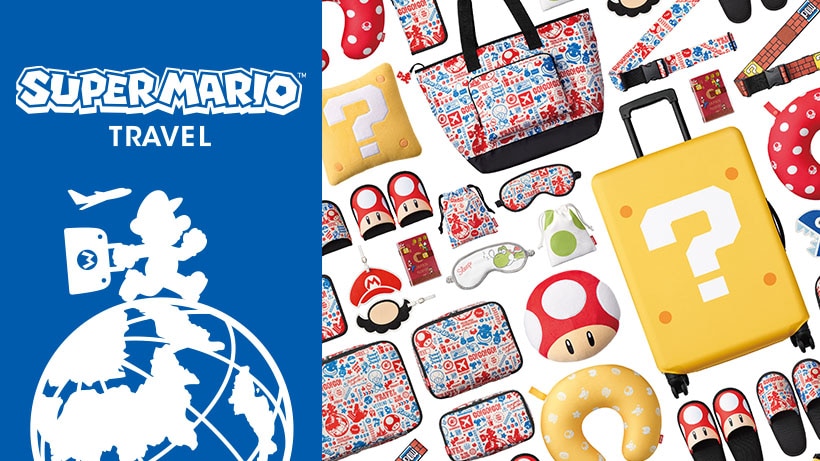 First up are a couple of two-way neck pillows, one themed after the Super Mushroom and the other after the Question Mark Block.


These can be used as a standard pillow or a comfy neck pillow for those long flights with a few zips and a fold, giving you flexibility and a good flight's sleep.
Next are eye masks, for those that need a little help nodding off. Keep yourself in the dark with either a cute Yoshi style, or the original style that you'll be seeing plenty more of across this collection.


Each also comes with a handy travel bag for when you want to keep those eyes open.
Are you the kind of person that just can't keep your shoes on the whole plane ride through? These slippers are sure to help keep things more relaxed.


Available in Super Mushroom and the Mario Travel designs, these especially would see plenty of use even outside of vacation season.
This next trio are some of my favorites: Three designs of luggage tags keep your personal info on your precious cargo while looking good doing it.



While the Mario hat and mustache are great, it's the Chain Chomp design that steals the show.
I've never once needed a suitcase belt, but now I can say I want one.


For those that overpack or just want a little extra security the Block or Travel original designs are both well "suited" to their task.
If you really want to standout at the airport, this next piece is a must have!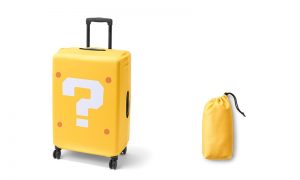 This suitcase cover turns any rolling bag into a question mark block, though hopefully you'll know exactly what's inside. Otherwise there's no way you're getting past security.
Finally we move on from accessories to some actual baggage. This two piece bag set offers a larger handbag together with a smaller folio style case; they're the perfect carry-on, and can slip over your suitcase handle for easy transport, too.



Fans of the all over print Travel design are definitely going to want this one, especially with that bag tag attached.
For your checked-in bag, you can keep things organized with this pouch set.



One larger bag conceals two smaller ones within, letting you keep your things properly packed and easily accessed once you're back on the ground.
Lastly we've got something no traveler wants to be without: a place to keep your passport!
This handheld travel pouch can hold that most important document along with some cards, a pen, and any other smaller items you may need for the trip or customs.
Speaking of passport though, you can get yourself your own Super Mario passport cover too.



The clear plastic keeps your passport protected while letting Mario run, jump, and wish you a nice trip all over it.
It looks like these are bound to be Japan only for the foreseeable future; if you find your way over, you can get to work replacing your entire luggage set and be all set for your next Isle Delfino getaway.
Leave a Comment