It looks like wedding bells are ringing the realm of Animal Crossing: Pocket Camp. Following Whitney's Rose Cookie, the second Gyroidite Scavenger Hunt is continuing the wedding theme. Beginning today, you'll find Wedding Gyroidites scattered across all locations in Pocket Camp. On top of that, completing various time-sensitive goals will dole out more Wedding Gyroidites.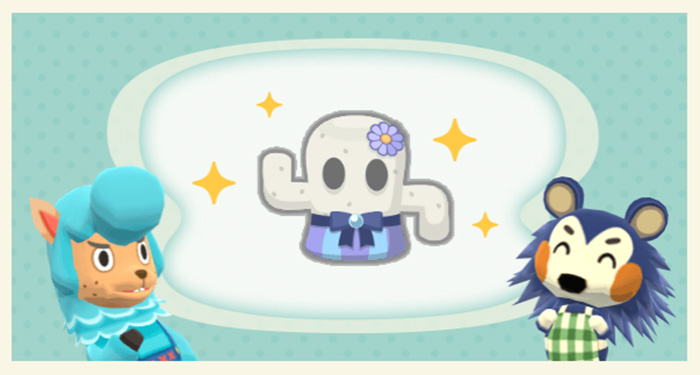 To complete the entire set, you'll need a total of 265 Wedding Gyroidites, 3,900 Bells, and 180 Leaf Tickets. Completing all Timed Goals will make a dent in that list — adding 60 Wedding Gyroidites, 2,000 Bells, and 51 Leaf Tickets to your inventory.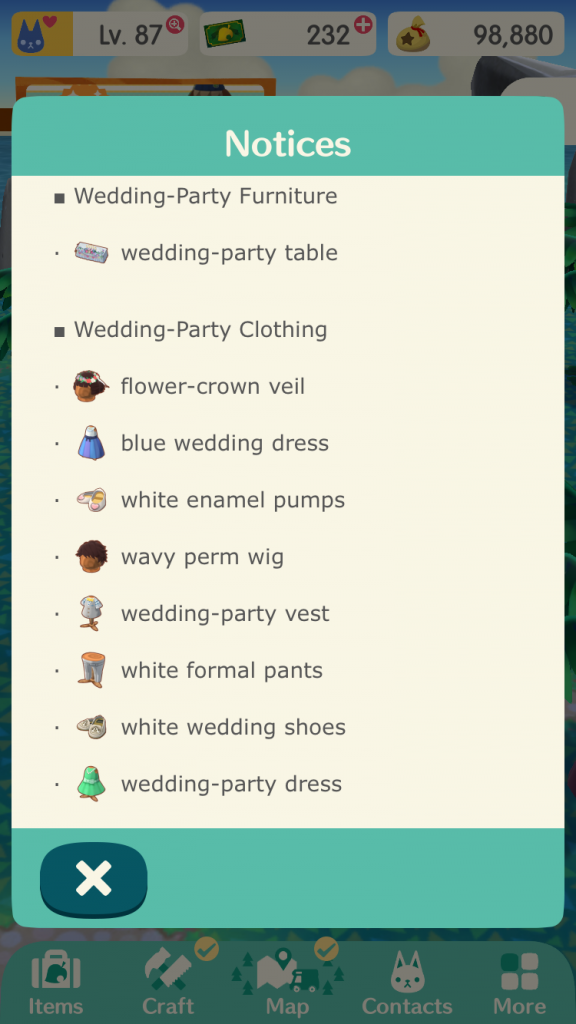 You'll have ten days to partake in second Gyroidite Scavenger Hunt! Once it's June 29th at 10:59 p.m. | June 30th at 1:59 a.m. ET, you'll have wait and see if the set appears at Tommy Nook's Stamp Trade.
For a full list of all items and goals, you can check out the tables down below:
Wedding Party Items
| | |
| --- | --- |
| Item | Leaf Tickets |
| Blue Wedding Dress | 100 |
| Flower-Crown Veil | 50 |
| Wavy Perm Wig | 30 |
| | | | |
| --- | --- | --- | --- |
| Item | Wedding Gyroidite Needed | Craft Time | Bells Needed |
| Wedding-Party Table | 80 | 1 hour 30 minutes | 1,200 |
| Wedding-Party Vest | 25 | 10 minutes | 300 |
| Wedding-Party Dress | 25 | 10 minutes | 300 |
| White Enamel Pumps | 50 | 1 hour | 800 |
| White Formal Pants | 35 | 30 minutes | 500 |
| White Wedding Shoes | 50 | 1 hour | 800 |
Timed Goals
| | |
| --- | --- |
| Goal | Reward |
| Complete 1 request(s) for visiting animals. | 5 Wedding Gyroidite |
| Complete 2 request(s) for visiting animals. | 5 Wedding Gyroidite |
| Complete 3 request(s) for visiting animals. | 5 Wedding Gyroidite |
| Complete 5 request(s) for visiting animals. | 5 Wedding Gyroidite |
| Complete 10 request(s) for visiting animals. | 5 Wedding Gyroidite |
| Complete 15 request(s) for visiting animals. | 5 Wedding Gyroidite |
| Complete 20 request(s) for visiting animals. | 5 Wedding Gyroidite |
| Complete 30 request(s) for visiting animals. | 5 Wedding Gyroidite |
| Wedding gyroidite collecting! Get 2 of them. | 5 Wedding Gyroidite |
| Wedding gyroidite collecting! Get  5 of them. | 5 Wedding Gyroidite |
| Wedding gyroidite collecting! Get 10 of them. | 5 Wedding Gyroidite |
| Wedding gyroidite collecting! Get 15 of them. | 5 Wedding Gyroidite |
| Craft a Wedding-Party Vest. | 1,000 Bells |
| Craft a Wedding-Party Dress. | 1,000 Bells |
| Craft some White Formal Pants. | 7 Leaf Tickets |
| Craft some White Enamel Pumps. | 7 Leaf Tickets |
| Craft some White Wedding Shoes. | 7 Leaf Tickets |
| Craft a Wedding-Party Table. | 30 Leaf Tickets |
Leave a Comment