After a mysterious countdown shared by both Arc System Works and Japanese animation studio Studio Trigger, we now know what's coming next from the two: a game adaptation of one of the most over-the-top anime of recent memory, Kill la Kill. While a brief synopsis of the series wouldn't do it justice, the stylish and action-packed nature of the show lends itself well to video games for sure. With Arc Sys' recent track record (coming strong off of Dragon Ball FighterZ and BlazBlue: Cross Tag Battle), there's a lot of potential worth getting excited over for this one.
Now, they aren't developing the game, nor is there a confirmed platform for it. That said, a Switch version might not be too far out of the realm of possibility pending how long this project has been in development. Called a "KLK Battle Action" game (for Kill la Kill), the few screenshots shared are very faithful to the style of the show.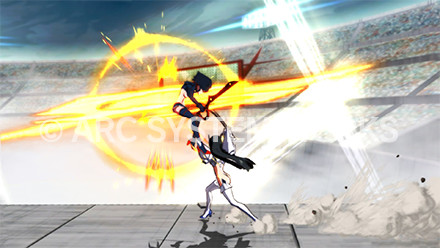 It won't be much longer until the game is revealed more fully, with additional info slated for July's Anime Expo where Arc Sys will have a booth with staff from the show. You can find on what little is known about the game at the official teaser site. Fans, keep your fingers crossed for a Switch release when the game launches in 2019. And remember — don't lose your way.
Leave a Comment