This week's Animal Crossing: Pocket Camp news includes two fun new additions to the game!
First off, you'll be greeted with a notice about a new terrain when signing on. If you've been looking for a new look that represents summer in all its glory, here's your chance: birch trees can now adorn your campground's middle ground and foreground! What a beautiful sight: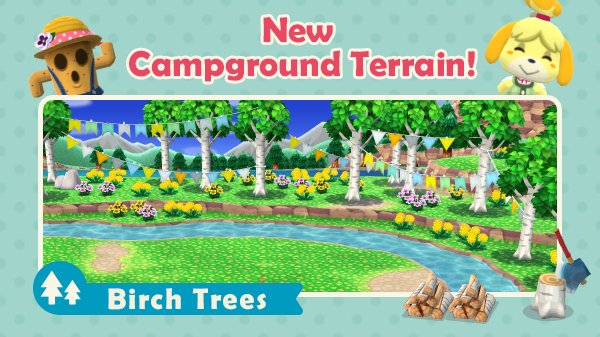 Decor isn't the only thing to get excited about today either. A brand new event is headed to camps, and this time, the theme is "pretty trees and unusual bumblebees."
Hip hip hooray! A new event is on the way! Oooh…it looks like there will be pretty trees and some unusual bumblebees. The fun starts at 11pm PT on May 30th. Please BEE ready. Hehe! #PocketCamp pic.twitter.com/cnKHwWqoZT

— Isabelle (@animalcrossing) May 29, 2018

The cute train is never ending when it comes to Pocket Camp! It's time to get buzzing because this event will kick off later today. We'll make sure to update this page once more details are released, so stay tuned!
Leave a Comment