Warning: The content below goes into detail about new items, animals, events, and more that aren't official available to play with in Animal Crossing: Pocket Camp yet, as they were only recently discovered in a datamine. Only continue reading if you're comfortable learning about possible spoilers!
A new app version is here, meaning plenty of new information has come to light through a datamine. The dedicated camp managers on r/ACPocketCamp have been hard at work tearing down the game's 1.4.2 update. Curated by SenorDeeebs, their findings are now posted, and they show off all of GrokNotMock and PCbluesun's hard work!
NEW VILLAGERS
Naomi, Poppy, Wolfgang, Carmen, and Zell have been discovered! They won't be arriving together — they'll instead be broken up into two groups. The first wave will include Naomi, Poppy, and Wolfgang, who will be visiting the venues near your campgrounds on May 15th. Ten days later, Carmen and Zell will be roaming your neck of the woods.

Five other potential neighbors were spotted in the datamine, but they haven't been associated with a specific event. It looks as though they're being saved for a later release, or it's possible that they'll be joining Gulliver's luck-based villager pool; no one knows for certain how they'll be integrated into the game at the moment. In the meantime, just know that assets for Tucker the elephant, Lobo the wolf, Robin the bird, Vic the bull, and Egbert the chicken are in Pocket Camp's code.
Lastly, while not a villager exactly, Digby may be checking in on his sister soon. The next Animal Crossing NPC to be added, his information looks to be associated with hosting an event (garden or otherwise) in the future.

A MODERN LOOK
The five new villagers getting added to the game aren't just bringing some new items; they're also bringing a new essence. Step aside Historical, as Modern is getting released first. You'll want to charm your new neighbors for that Modern essence so you can get your hands on all the new clothes, furniture, rugs, snacks, and amenities. Luckily, like with previous releases of new themes, Host the Most events will be handing out Modern essence. The first set of goals will kick off next week!

MAY EVENTS
Besides Host the Most, information and dates for a new fortune cookie and the next Fishing Tournament have been found. Available for two months, Stitches' collection is modeled after the fabric-remnant bear and even include a color variant of the Patchwork Ghost Sofa. A Leaf Ticket price hasn't been found yet, but more than likely it'll cost the same as other Fortune Cookie pulls (50 Leaf Tickets).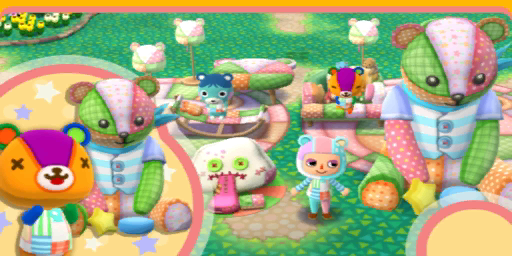 As for the fishing tournament, more sea-themed furniture and clothing will be handed out after completing Chip's challenges. This time, you'll be fishing for the Sea Butterfly, Puffer Fish, and a variant of the Moray Eel (Zebra) that's new to Animal Crossing.
For the full list of events and their dates, you can check out the table down below:
| | |
| --- | --- |
| Event Name | Dates |
| Host the Most with Naomi, Poppy, and Wolfgang | May 15th – May 21st |
| Stitches' Fortune Cookie | May 15th – July 16th |
| Fishing Tournament 2 at Saltwater Shores | May 19th – May 24th |
| Host the Most with Carmen and Zell | May 25th – May 30th |

What are you looking forward to the most? Let us know on Twitter or in the comments down below!
Leave a Comment