After more than a year, Kirby's 25th Anniversary celebration has come to an end. Today marks his 26th birthday instead, and along with all the responsibilities that brings (good luck figuring out insurance, buddy) means a change in style for his website. Previously the hub of all things Kirby Anniversary related, the official site has been rebranded and given a fresh coat of pink and white paint.
Welcome now, to the Kirby Portal!
Everything from the previous site is here, including the adorable character pages and the constantly updating list of goods. My favorite's the series history section, taking a chance to highlight each of Kirby's releases and their box art.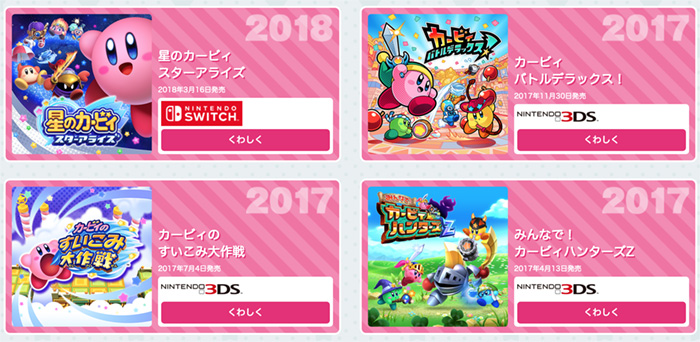 While things may slow down as far as celebrations and events, this year of Kirby over in Japan has given the character an even greater level of exposure and plenty of joy. Here's hoping, even occasionally, there are some new Dream Land delights waiting just around the corner.
Leave a Comment