Datamining Animal Crossing: Pocket Camp has been tricky this year. The team behind the mobile game has taken steps to protect content that's slated for release in the future, but that doesn't mean we're not getting small hints of what's to come anyway. Check out these pieces of info that were given to players through an in-game notice this morning:
… BUT LIZZY! YOU WERE MY LOBSTER!
Gulliver! Wake up! That's right, the seafaring seagull who has a habit of falling overboard and washing up on shore will soon be appearing on Sunburst Island. As for his tendency to bring his treasure trove of furniture from all over the world along, that may be absent this time around. From what's been teased online and in the in-game announcement, Gulliver has a sweet tooth. Cookies, lollipops, doughnuts, popcorn, chocolates, Belgian waffles, and more — it's making us hungry and we're wondering what these treats will do.
MAKING A MEMORY
Information about this next bit was stated somewhat vaguely: "special memories" will be added to the game. Perhaps they're cutscenes involving animals that you've maxed out at level 20 — we're not quite sure yet. There aren't any further details beyond a couple of sentences confirming its existence, but any part of the mainline game's charm that makes it into the mobile game is fantastic in my book!
FURNITURE, FISH, AND BUGS
Here's another addition mentioned vaguely: "[i]ncreasing the maximum amount of furniture you can have." Whether this is tied to inventory limits, what can be placed on your campgrounds, or both, is left to be seen. Given the amount of new content that's being added, and even juggling multiple events and their rewards at the same time, any progress here is welcome.
Tired of the same ol' bugs and fish? New creatures will be added — and these won't disappear after a fishing tournament! So far, the following have been teased in a promotional image: Seahorse, Napoleon fish, Loach, Neon tetra, Agrias butterfly, and Goliath beetle. With new fish and bugs that means we'll see new animal requests, and hopefully a boost to our inventory limits, as now we'll have to juggle six new creatures.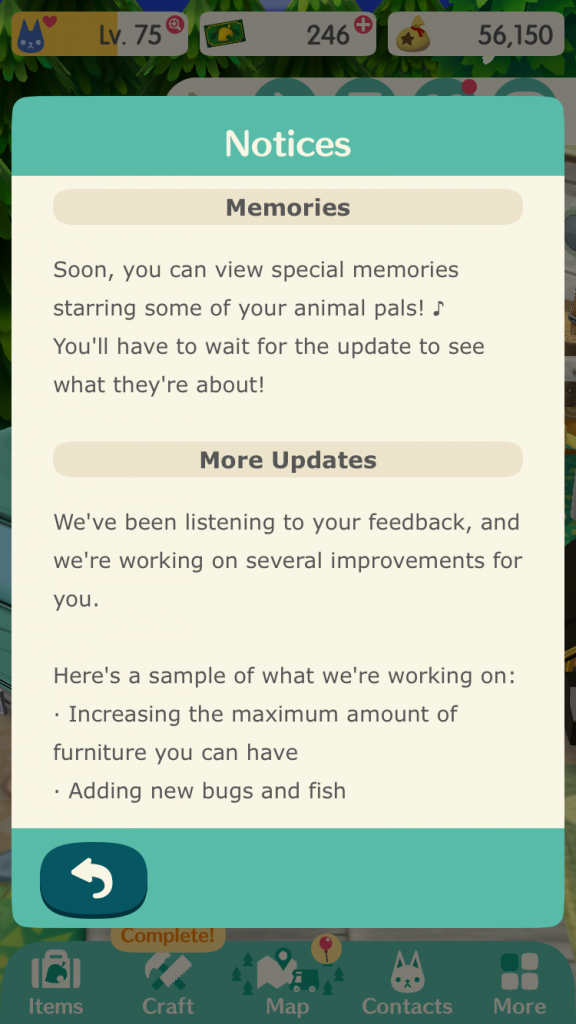 A GUIDE BOOK
Okay, it's true that mobile games don't see guide books that often, especially when updates are frequent. That's not stopping Animal Crossing: Pocket Camp as Japan is receiving a strategy guide. The cutoff for what will be in the guide is February 28th, 2018 — meaning the floral-themed Spring Event will be the last event covered. There's no mention of a release date, but the listing on Amazon.co.jp is promising a one to two month shipping estimate.
The book is fairly inexpensive, as it'll be available for 1,296 yen (about $12.17).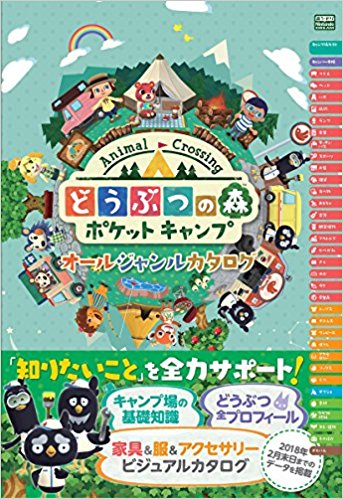 For all the Animal Crossing super fans out there, you'll be happy to know that you can import it via Amazon Japan. You'll just have to wait for the book to be released.
That's it for a sneak peek at what's to come! Are you excited about these new updates? Hoping for anything else to come out soon? Let us know on Twitter or in the comments down below.
Leave a Comment