Springtime offers an array of fresh feels — from blooming buds to waves of warm weather, there are plenty of reasons to head outside for some time under the sun. And now, with the Pokémon Center's newest Riding with Lapras line, you'll get a full dose of spring and summer vibes with two of the series' cutest characters!
Pikachu and Lapras are arriving just in time for the beautiful season in all new art that pictures our favorite electric mouse atop the large Water/Ice-type 'mon, heading out for an adventure on the shores. Featured together in a brand new line of merchandise, the duo can adorn your home and workspace in a variety of ways. You'll find favorite items like plushes, keychains, and pouches alongside other fun and useful products. A tissue box, folders, notebooks, washi tape, stickers, and more are all available through Pokémon Center locations in Japan starting April 14th.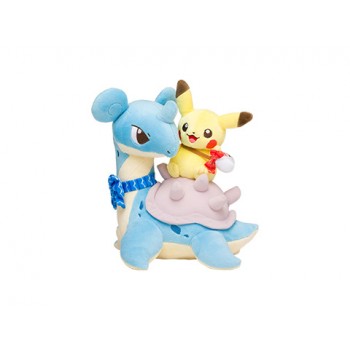 If you're heart is aching to add some of this colorful merch to your own collection and you're not located in Japan for the release, fear not! Sunyshore Pokémart gathers items from Japanese Pokémon Centers and ships them overseas to Poké lovers all over the world. Head on over to the shop now to view all the Riding with Lapras products!
Leave a Comment