Fan predictions and rumors about Nintendo's E3 presence have been running rampant this year, and luckily, we're one step closer to finding out what's to come, as we now know what the Big N's floor presence will look like.
Thanks to Rösti on Resetera, the tentative show floor plans for this year's convention are available. While, yes, these documents are supposed to be confidential, this isn't the first time that plans have made their way to the public in a less official way. Last year's E3 plans were leaked around the same time, and so far E3 2018's plans aren't deferring too much from what we've already seen.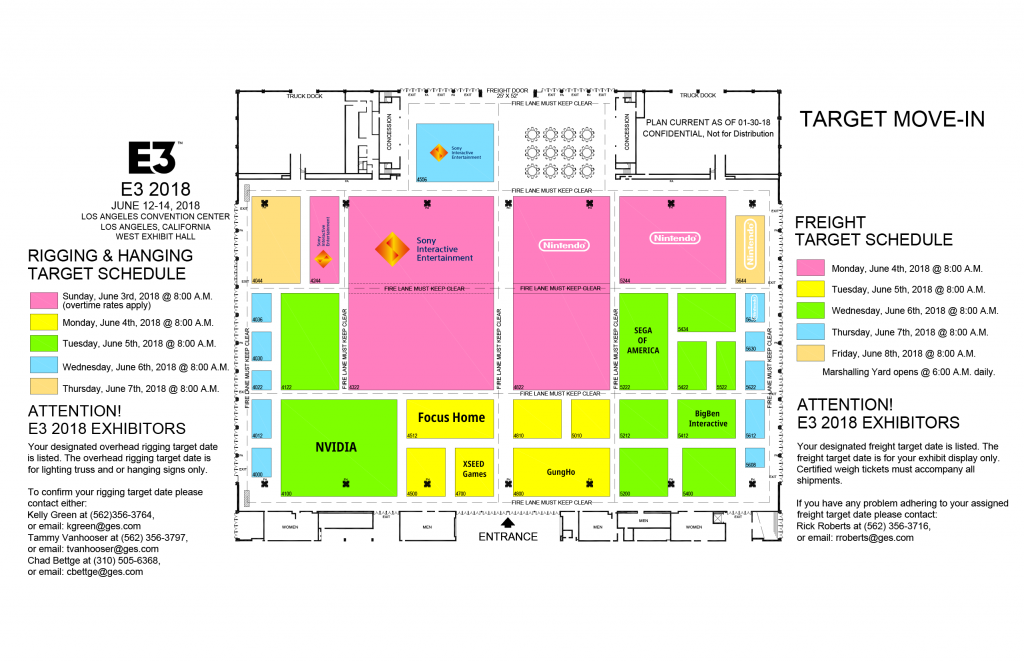 Nintendo still has its three spots from last year. The larger one was previously dedicated to New Donk City in preparation for Super Mario Odyssey's release, so it's possible that we'll see another large focus in that area alone. The smaller two pink squares were used for media and games "behind the scenes" in the past — so again, Nintendo may choose to mimic those plans this year. And finally, it's likely that the tan area could be dedicated to a rest area for the company's staff.
We'd like to point out that there's a new spot for Nintendo this year. Just south of the tan rectangle is a blue-marked area. The first ideas that come to mind regarding possibilities are a photo op area for fans, a My Nintendo setup, a mobile phone game showcase, or even a studio themed after the new Nintendo Labo. There are endless possibilities — we'll just have wait four more months to see for ourselves!
What are you looking forward to seeing at this year's event? Let us know on Twitter!
Leave a Comment